AMAZON US AMAZON CA AMAZON MX AMAZON UK AMAZON DE AMAZON FR AMAZON IT AMAZON ES AMAZON NL AMAZON SE AMAZON PL AMAZON TR AMAZON JP AMAZON SA AMAZON AU AMAZON SG AMAZON AE
Overview
Power Modes - It can be powered not only by DC12V 1A or higher but also by PoE(Power Over Ethernet) with high efficiency up to 140 meters by just one single Ethernet cable(CAT5e cable recommended) if it's connected to a standard PoE switch(Not Included).
Multiple Broadcasting - Suitable not only for pulling stream to your own server via TS (H.265/H.264 supported) like IPTV, but also for pushing stream via RTMP (H.264 only supported) to Wowza Streaming Engine, YouTube, Twitch, Ustream, Facebook Live, Livestream, Wirecast, vMix etc. to do broadcasting. It also supports stream pushing via dual addresses.
Multiple Applications - Applicable for IPTV, video conference, video game, telemedicine, remote teaching, major events, WeMedia etc. live broadcasting, CCTV surveillance, NVR, recording system etc.
Multiple Protocols - TCP/IP, DHCP, DNS, DDNS(3322, Oray), HTTP, RTP, RTSP, RTMP, TS, UDP, ONVIF, Multicast etc protocols supported. It's compatible with Hikvision private prococol which allows it to work with iVMS-4200/8700 and video recorded at H.265 with Hikvision's NVR.
Multiple Decoding - Available for simultaneously decoding video streams over HTTP, RTSP, RTMP, TS, HLS, SQ(Private Protocol) up to 3 channels from EXVIST video encoders and IP live streaming cameras. Then it's okay to output via HDMI directly or even select corresponding channels or fusion channel to stream to different platforms via different protocols independently.
Multiple Interfaces - Not only equipped with HDMI input and audio input, but also with HDMI output and audio output which will be applicable for more scenarios such as test with HDMI loop-out. Besides, there's one more USB2.0 port for recording or playing video files in MP4 in USB flash drive.
Cross Browsers - Real cross browers supported like IE, Microsoft Edge, Google Chrome, Firefox, Safari etc. With user-friendly UI, you can also preview live video directly over browsers, set audio as AAC, bitrate as 500(recommended), insert your logo(jpg at 200x200px) and OSD text, and remote upgrade etc.
Available to Search in SADPTool
The PoE HDMI video decoder is compatible with Hikvision's private protocol, which allows you to search it via SADPTool directly but it's limited to search.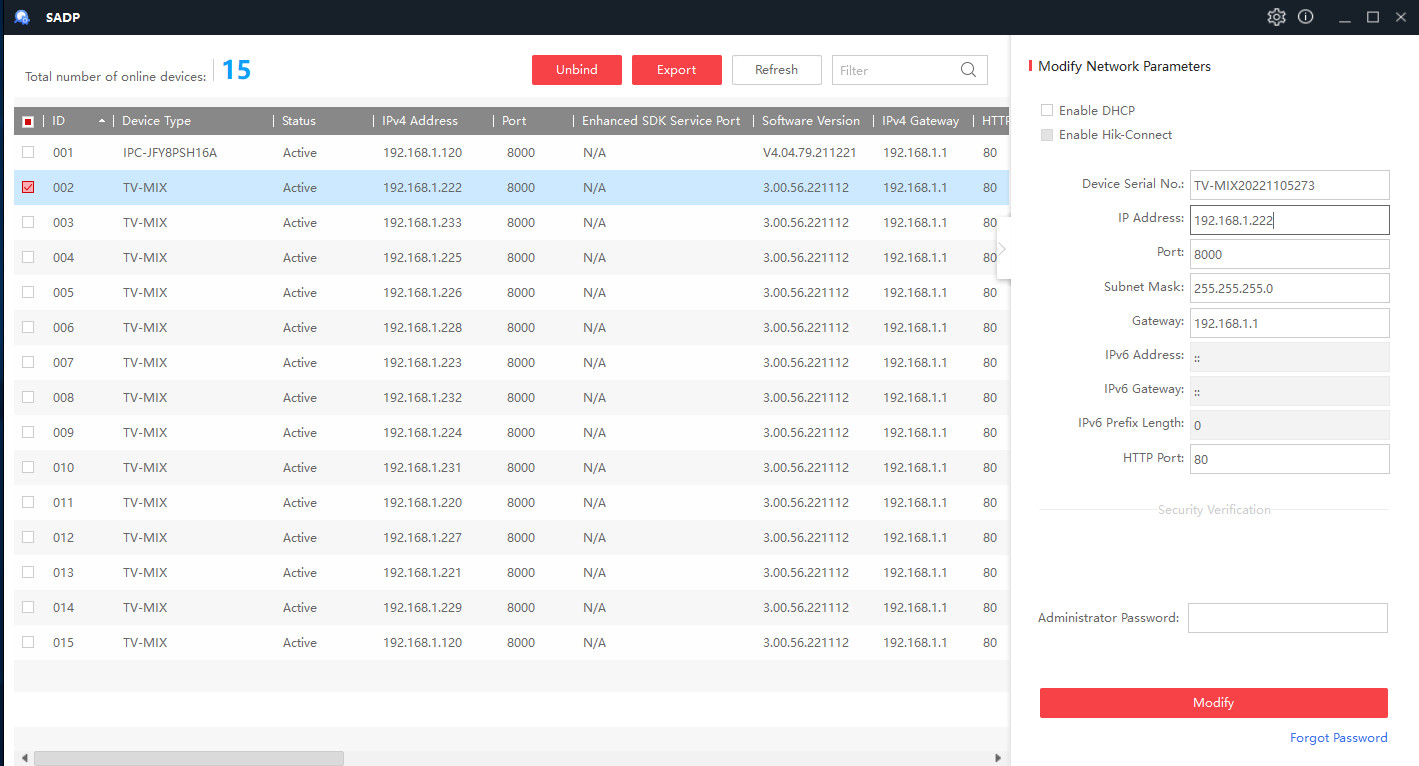 Specification
SOC

Basic: User: admin; Password: 12345 Static IP: 192.168.1.120 (Default)
Model: ON-DMI-30BP
Video Input: Up to 1080P@60FPS