Overview
Multiple Broadcasting - Suitable for pushing video stream via RTMP (H.264 only supported) to Wowza Streaming Engine, YouTube, Twitch, Ustream, Facebook Live, Livestream, Wirecast, vMix etc. to do broadcasting. It also supports stream pushing via dual addresses. Audio might not be so good when streaming live video to YouTube.
Multiple Applications - Applicable not only for basic CCTV surveillance, but also for live broadcasting like video conference, video game, telemedicine, remote teaching, major events, WeMedia etc. Full color at night with warm light.
Multiple Protocols - TCP/IP, DHCP, DNS, DDNS(3322, Oray, Dyndns), HTTP, RTSP, RTMP, VoIP, SNMP, IEEE802.1X, ONVIF, Multicast and other protocols supported. It's compatible with Hikvision private prococol which allows it to work with iVMS-4200/8700 and video recorded at H.265 with Hikvision's NVR.
Multiple Languages - English, Traditional Chinese, Simplified Chinese, Russian, Germany, Japanese are available(It might vary from different firmware versions). It can automatically match the system language of user's PC which is much easier for you.
Cross Browsers - Real cross browers are supported like IE, Edge, Google Chrome, Firefox, Safari etc. With user-friendly UI, you can also preview live video directly via brower, set audio as AAC, set the bitrate as 500(recommended), insert your logo(jpg at 200x200px) and OSD text, and remote upgrade etc.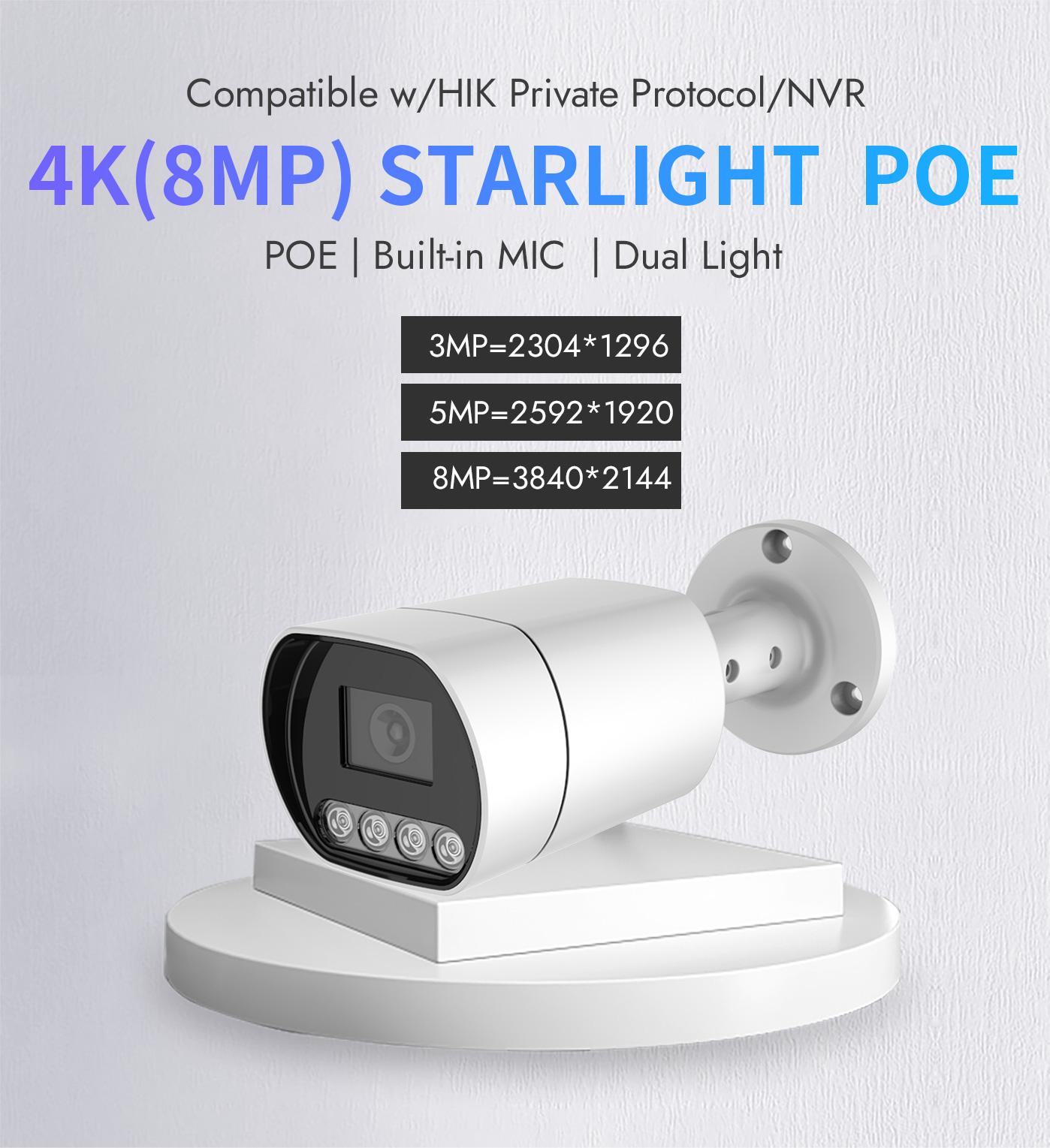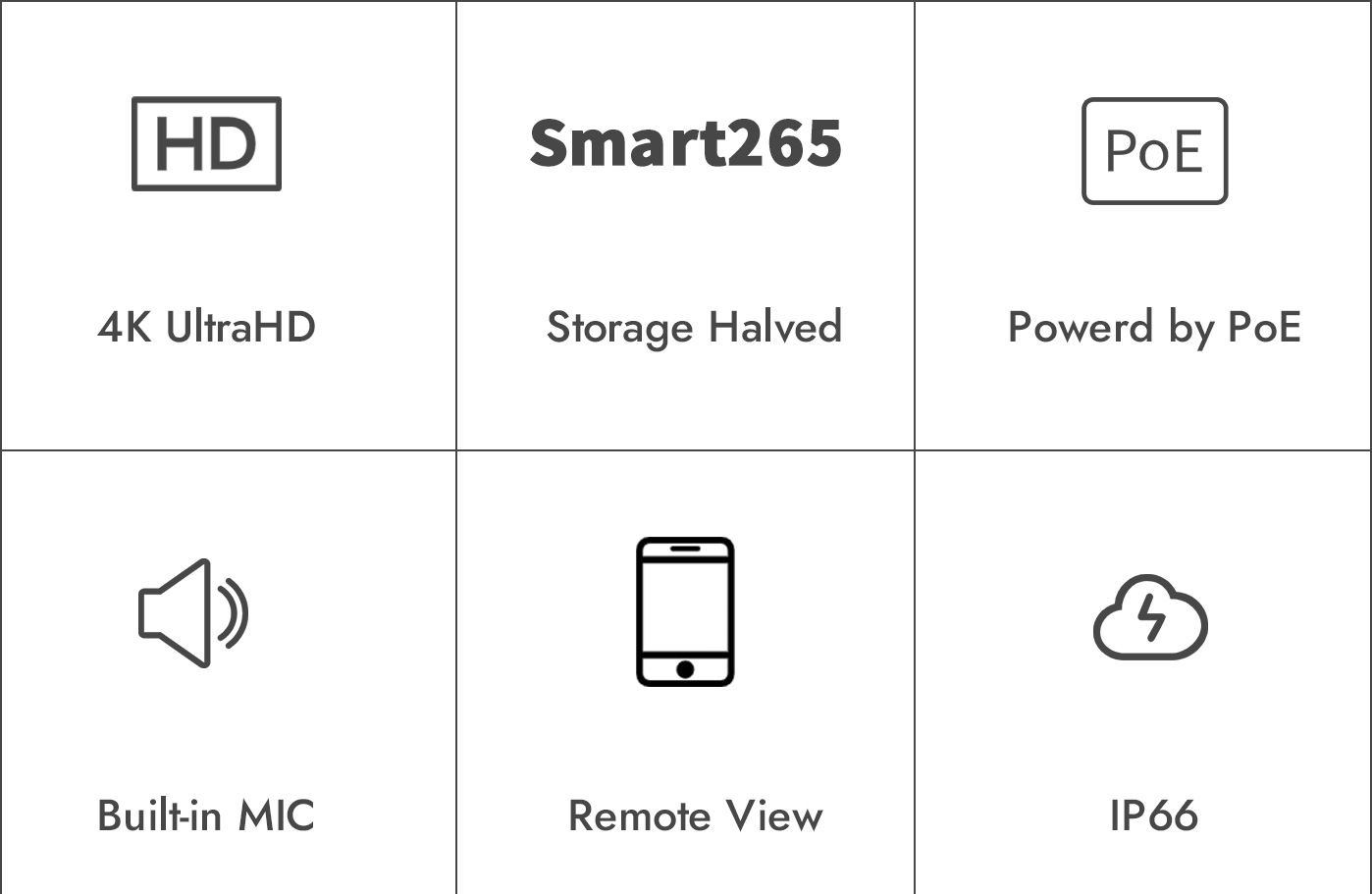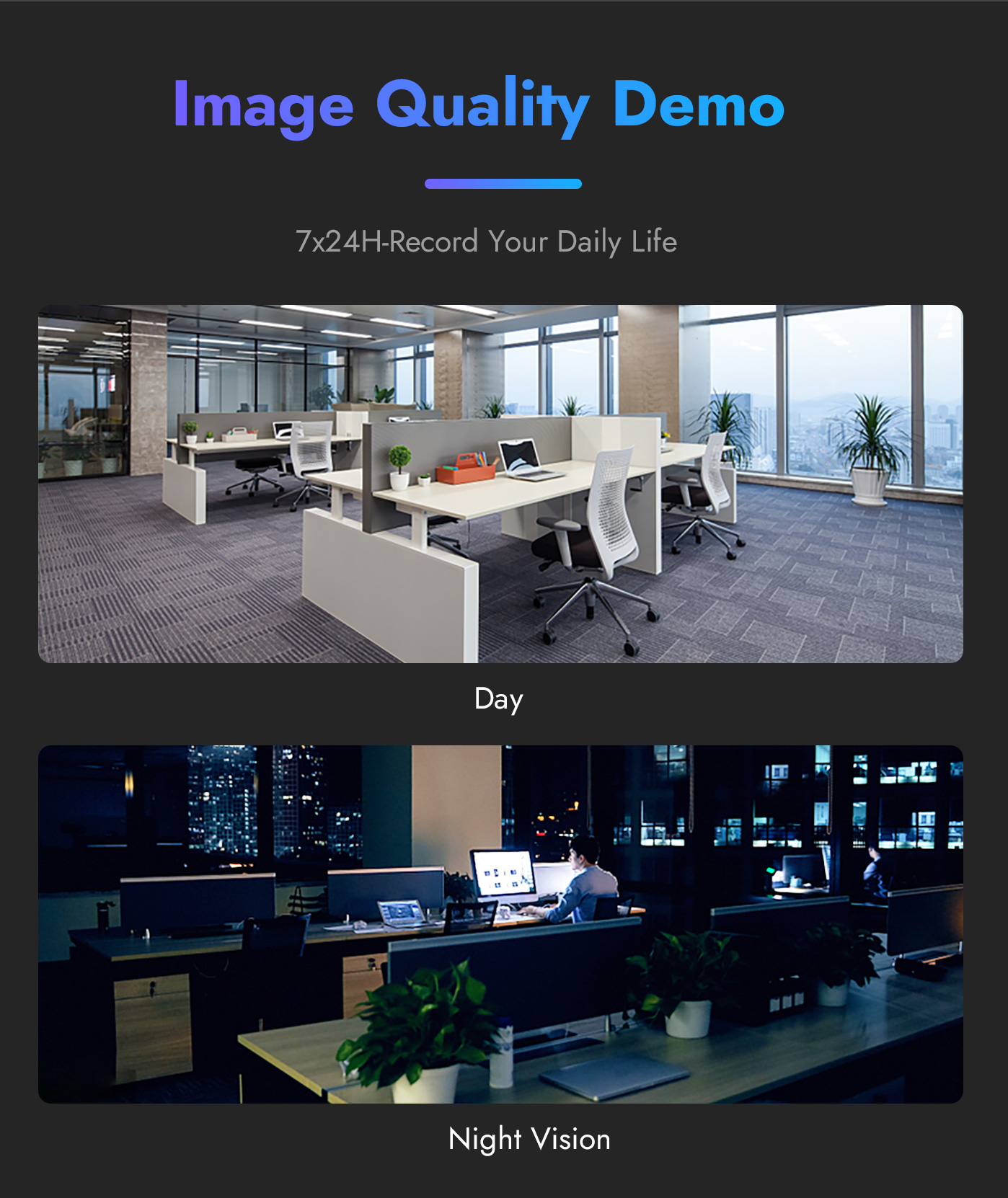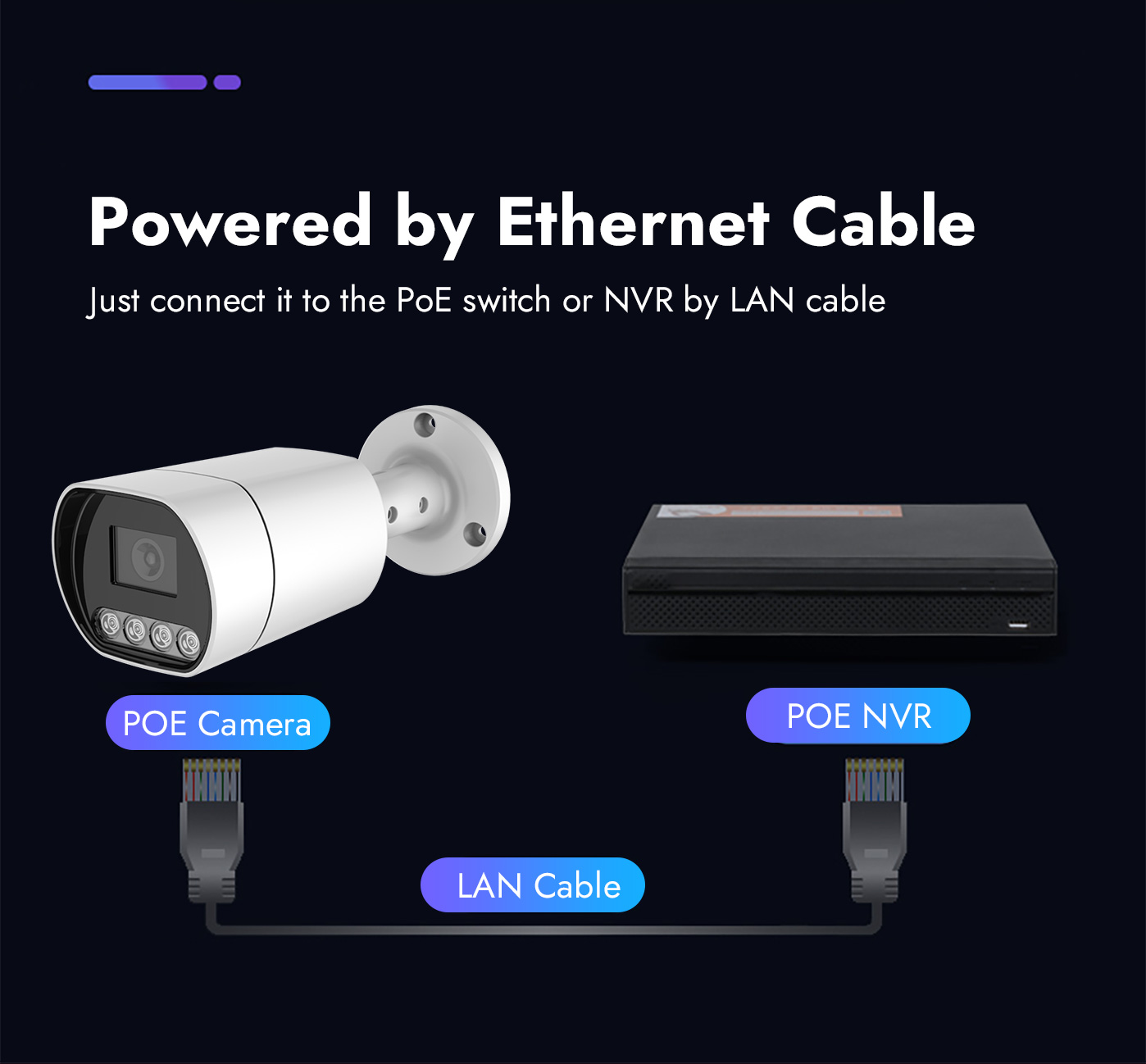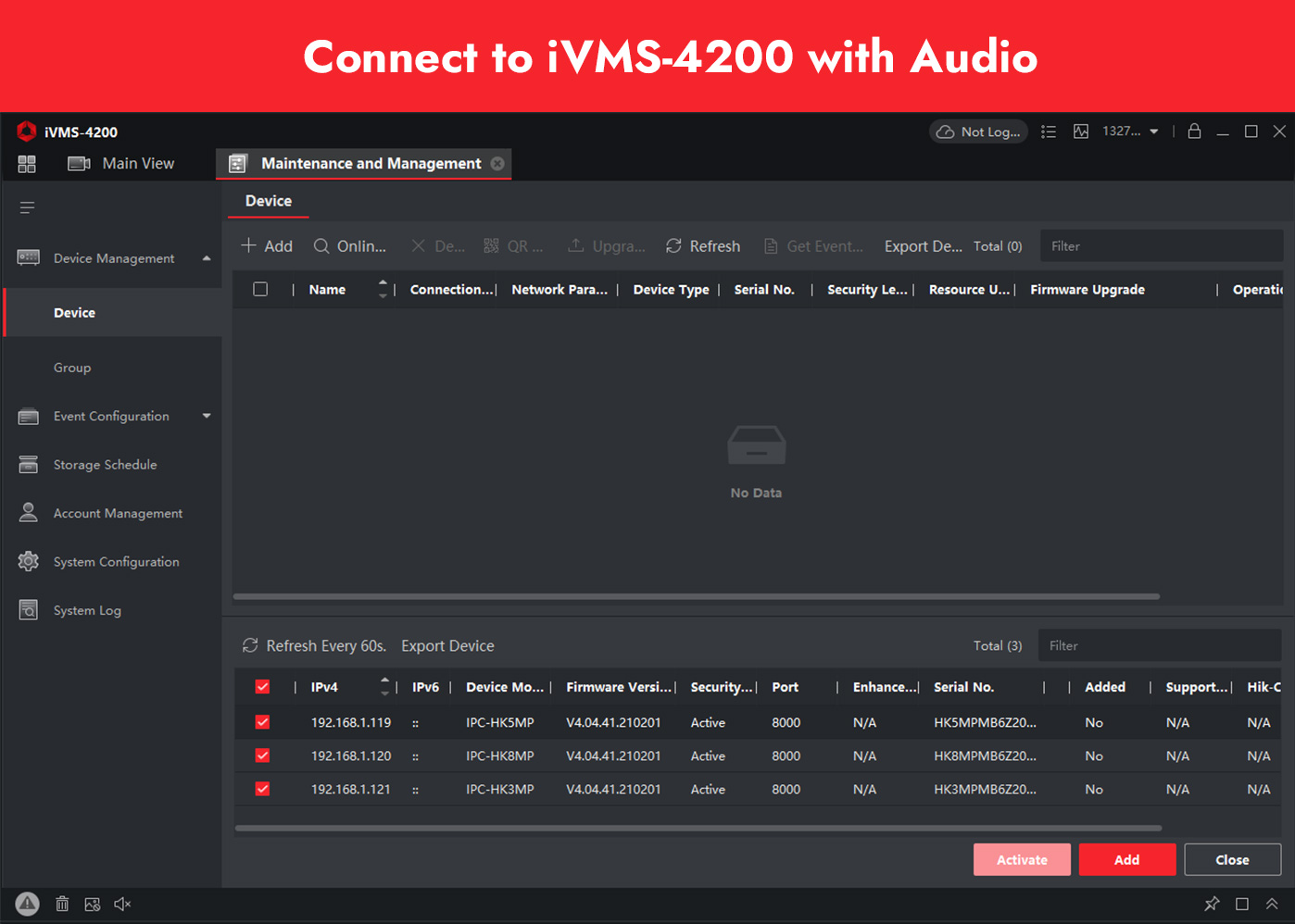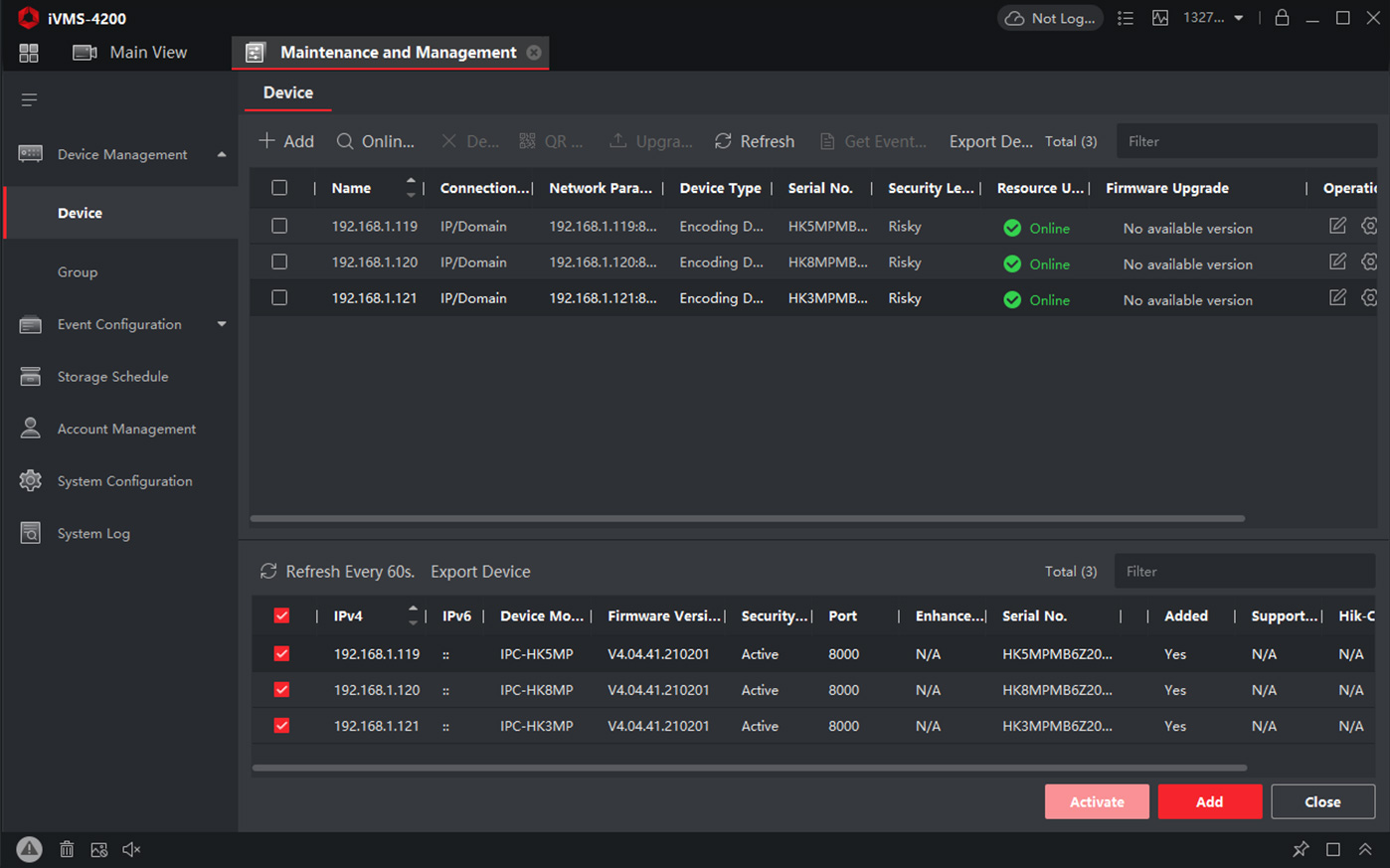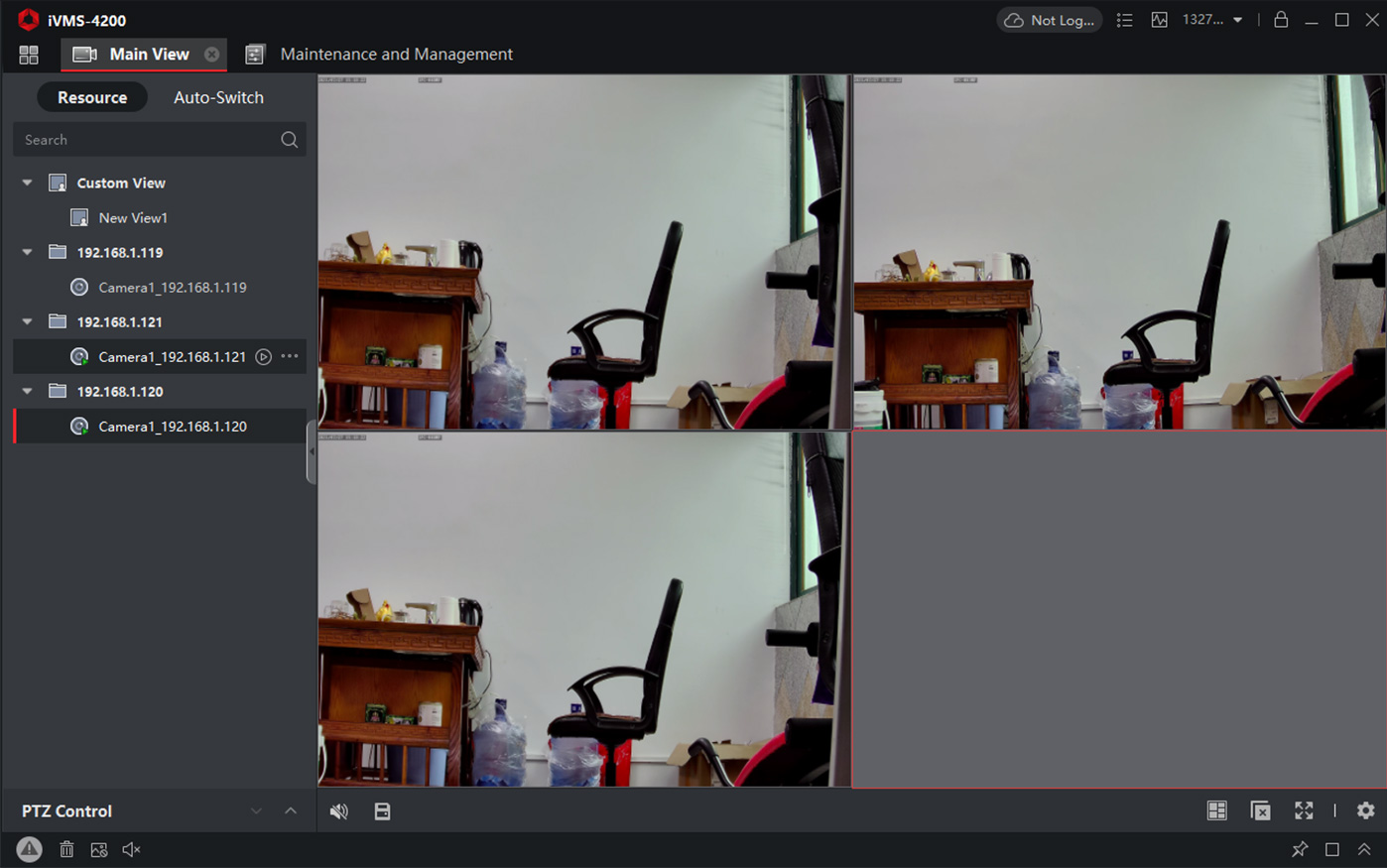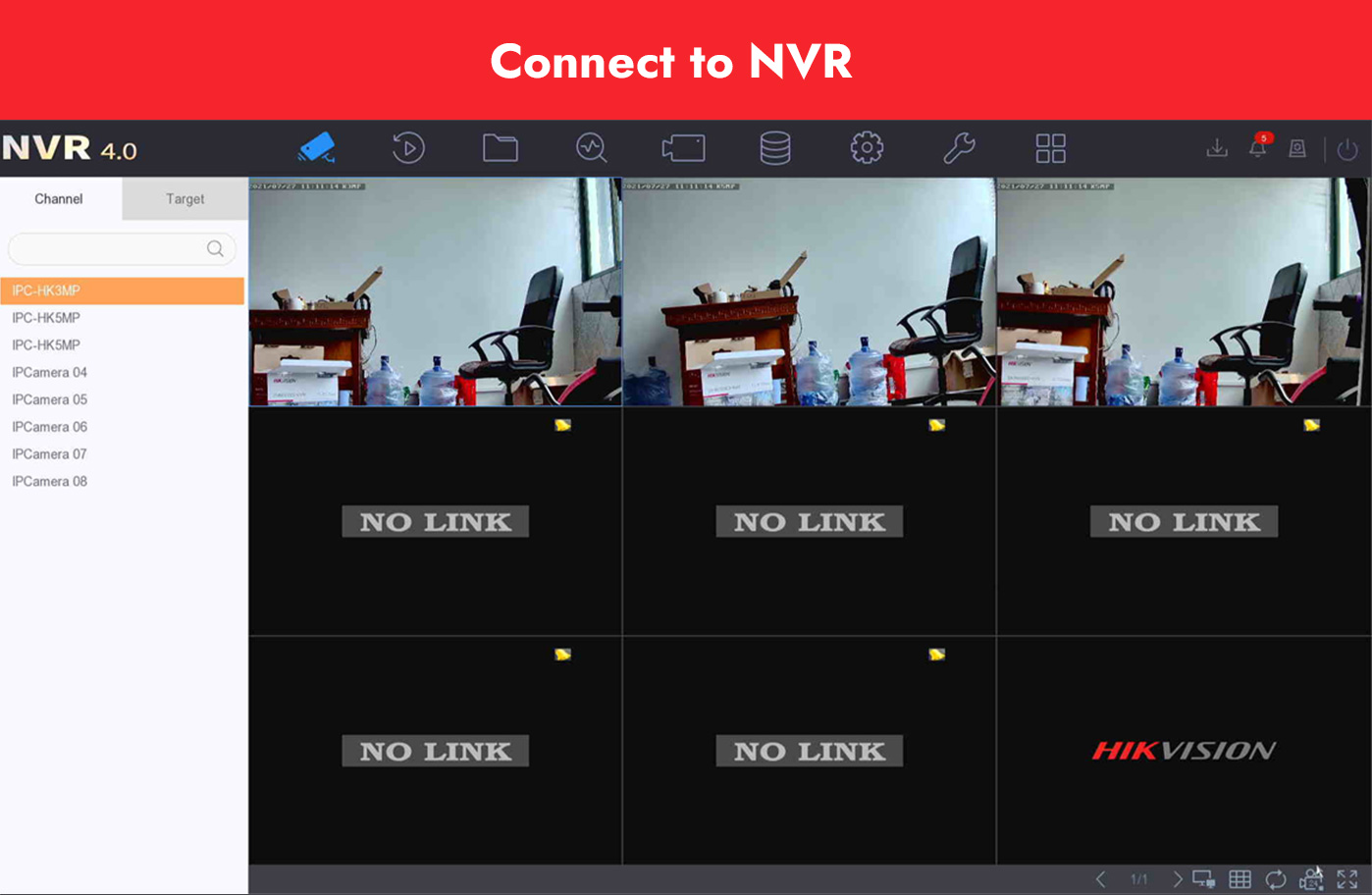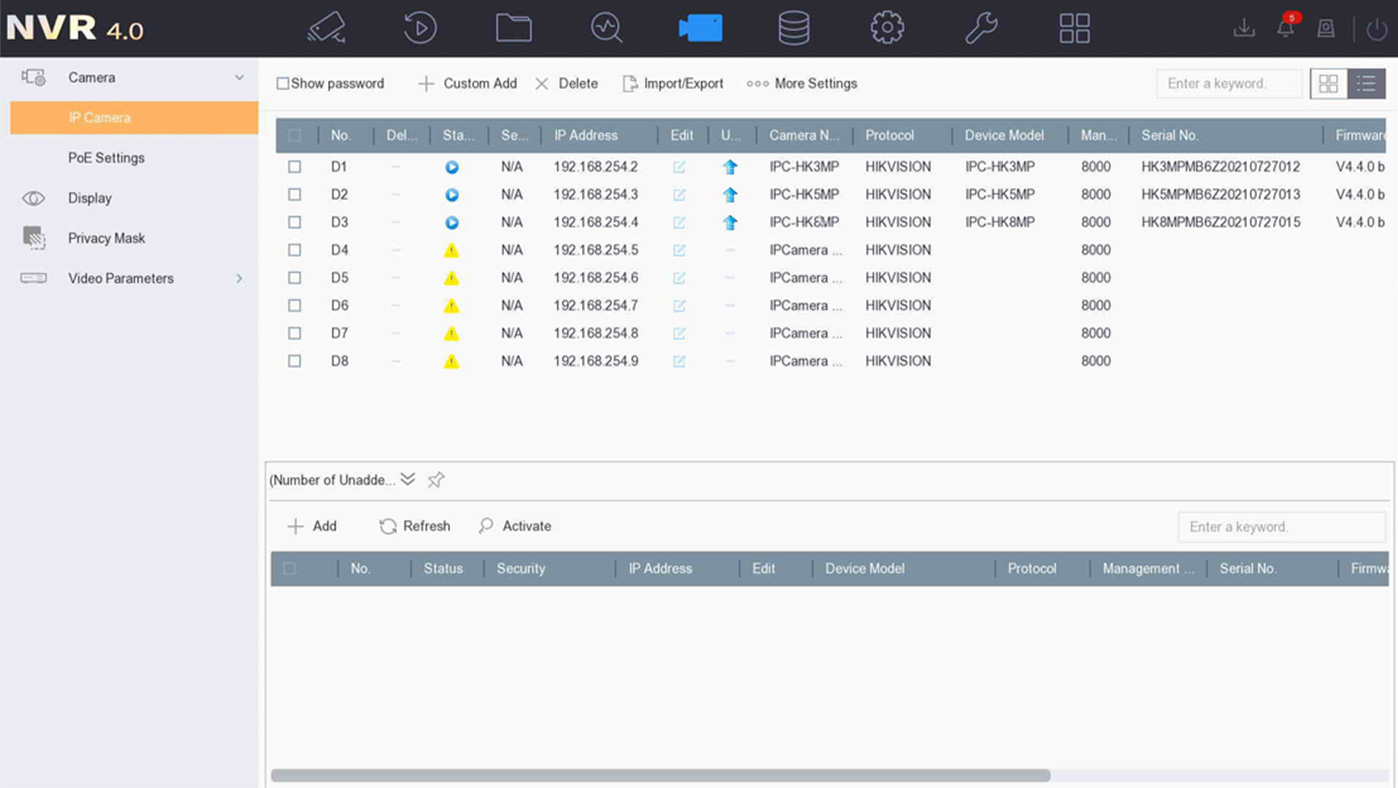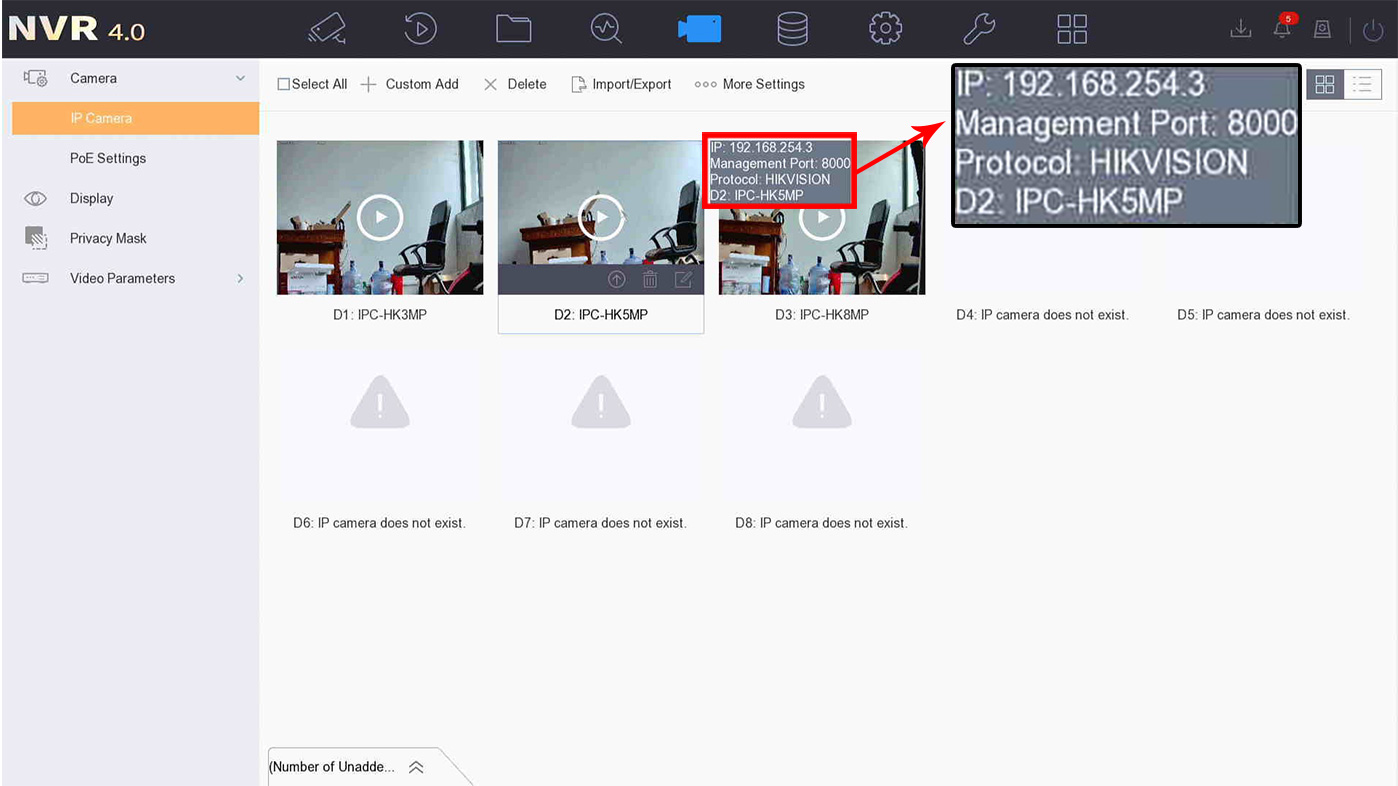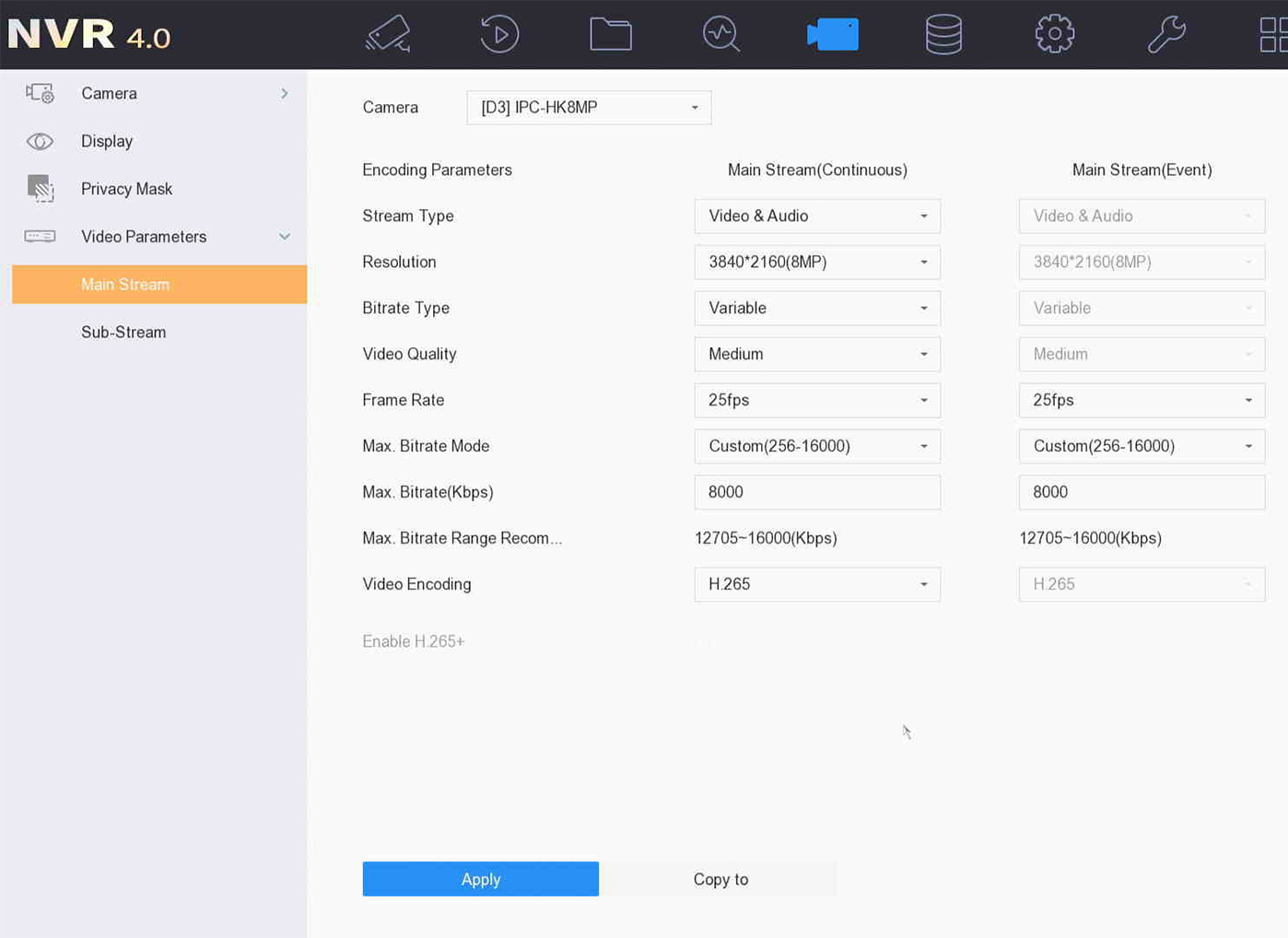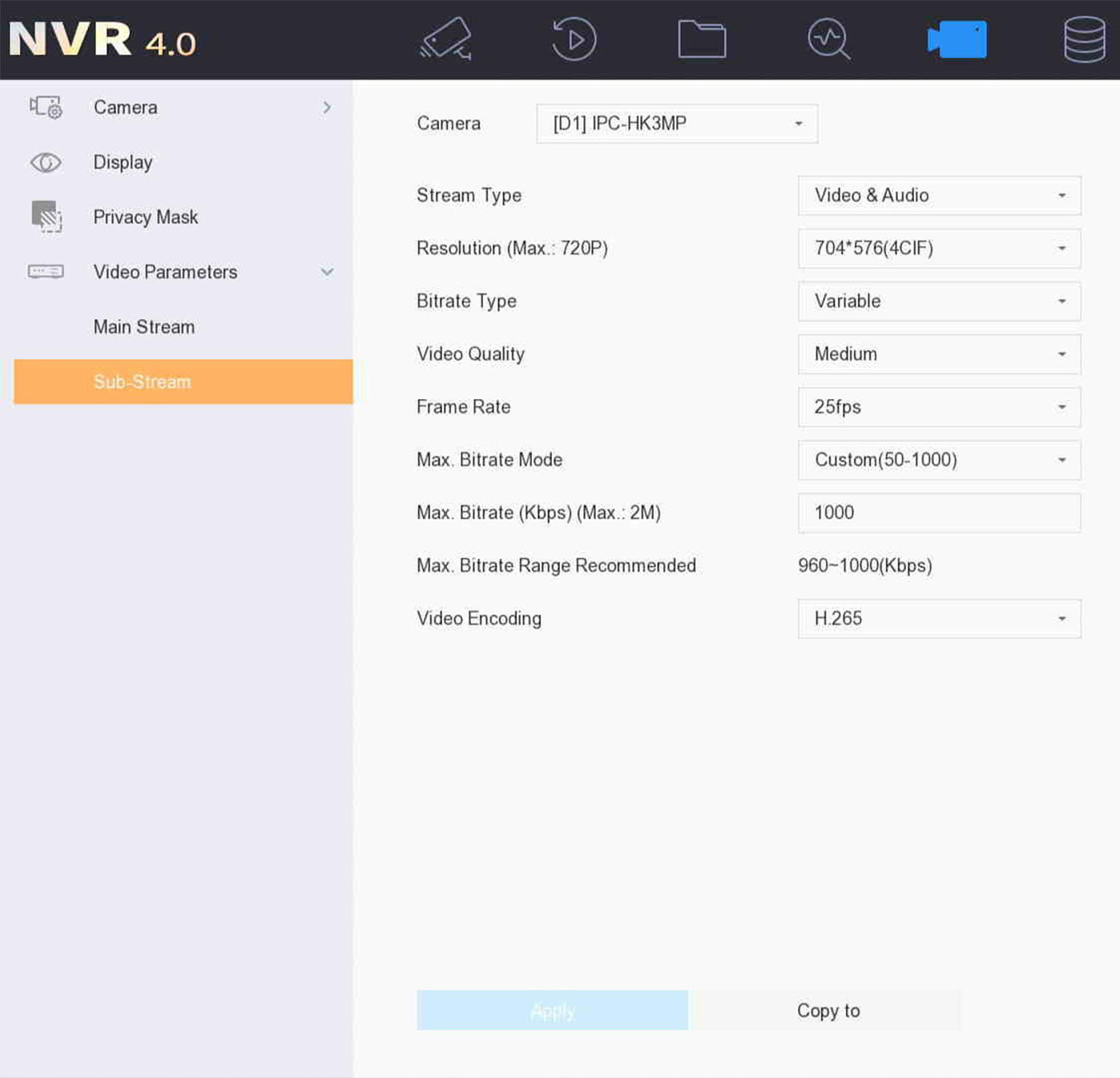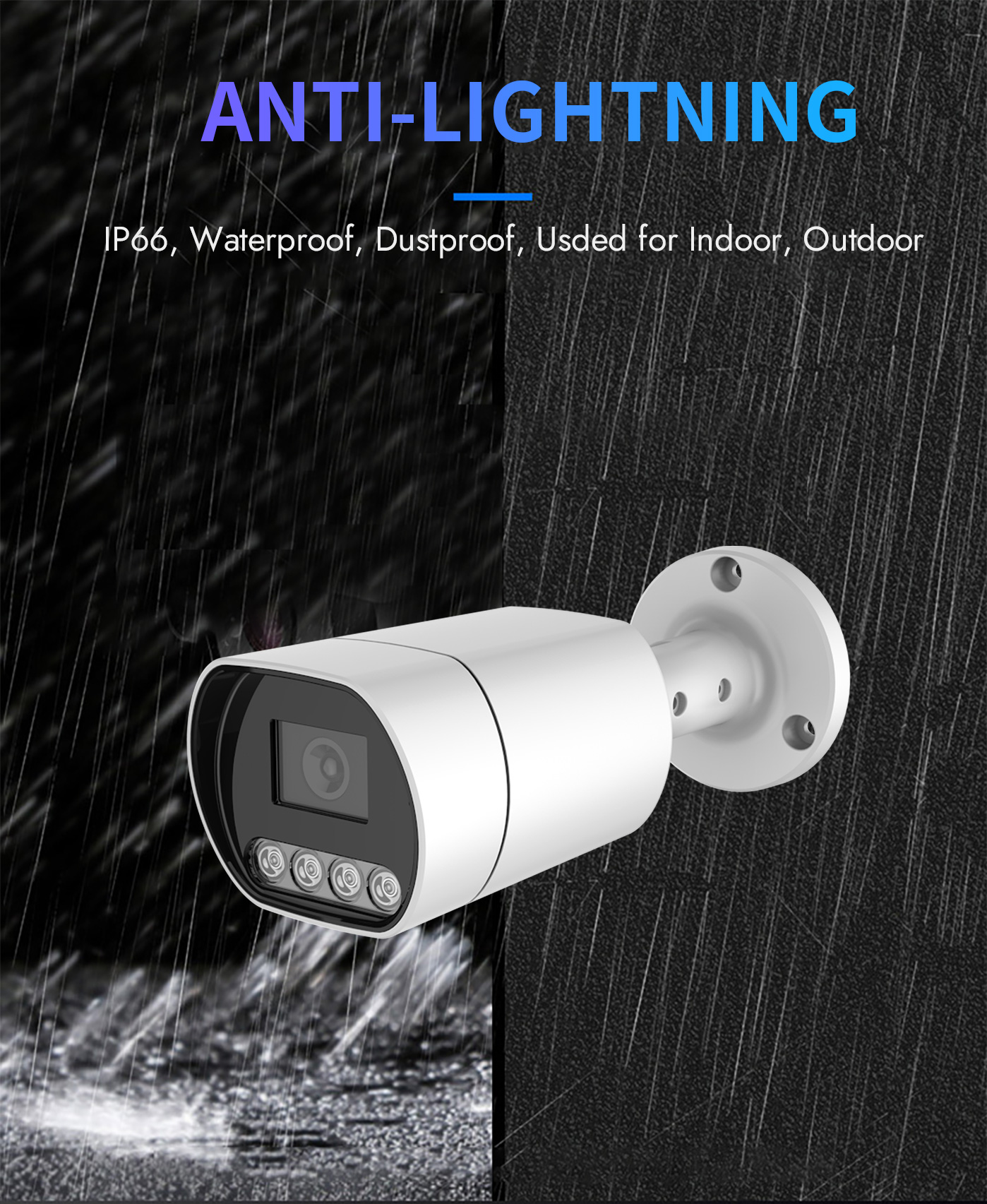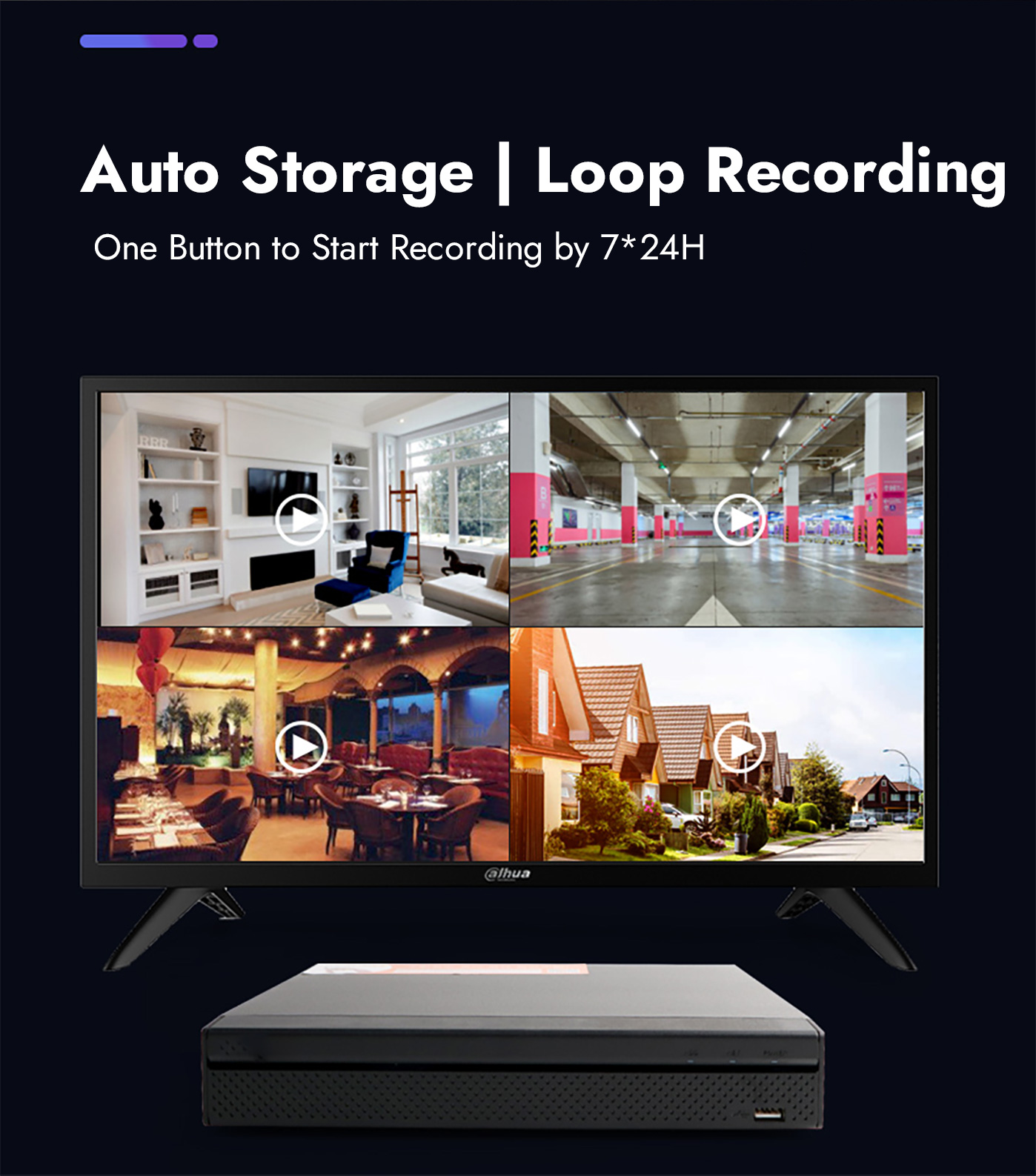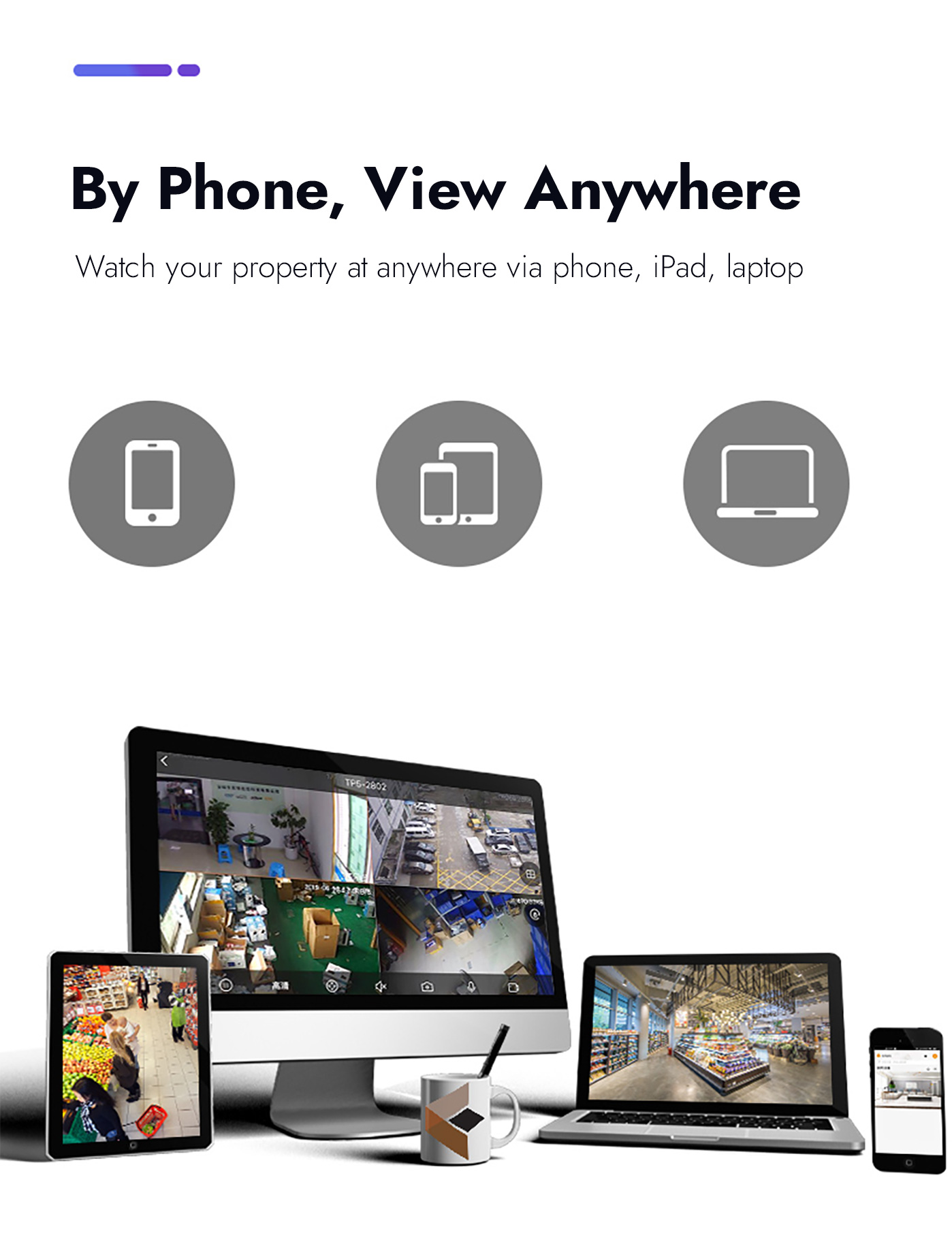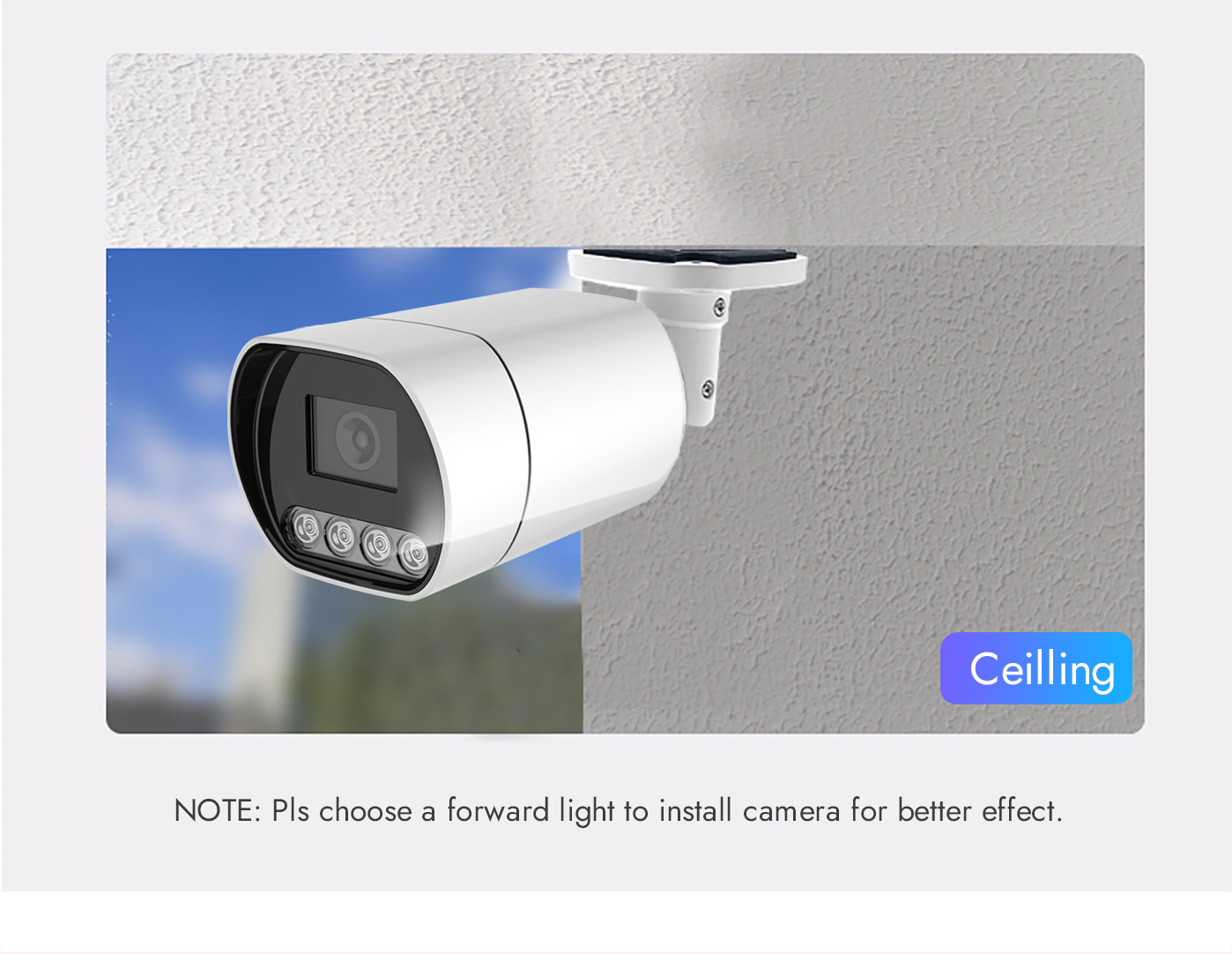 Specification
Basics
Default
User: admin; Password: 12345; IP: 192.168.120(DHCP);
Model
ZSD8PSH16F: 8MP, Smart IR, Fixed Lens ONLY
Sensor
1/2.8" Progressive Scan CMOS Sensor
Mode
IR ON when no human is detected, Warm Light ON when human is detected, Automatically removable infrared-cut filter
Lens
2.8mm/3.6mm/6mm/8mm[Optional]
WDR
80dB
Electric Shutter
Adaptive, 1/2s-1/1,000s
Video & Audio Encoding
Video Encoding
H.265/H.264 Video Encoding
Audio Encoding
AAC/G.711U/G.711A Audio Encoding; Audio Sampling up to 16K
Bit Rate
CBR & VBR; 256kbps~8Mbps [Adjustable]
Frame Rate
50Hz: 1-25fps; 60Hz: 1-30fps [Adjustable]
Main Sream
3840*2160, 3072*2048, 2592*1944, 2592*1520, 2304*1296, 1920*1080, 1280*720
Sub Stream
704*576, 640*360, 640*480, 352*288
RTSP(Main Stream)
rtsp://192.168.1.120:554/Iive/0
RTSP(Sub Stream)
rtsp://192.168.1.120:554/Iive/1
Protocol
Network Protocol
IPv4/IPv6, TCP/IP, DHCP, HTTP, UDP, RTP, PPPOE, SMTP, UPNP, VOIP
Video Protocol
CGI, RTSP, RTMP, ONVIF, HTTP, SIP, 802.1x
Wireless Protocol
Not Available by Default
Interfaces
Network Interface
1ch RJ45 10M/100M Self Adaptive Ethernet Port
Audio Interface
Built-in Audio BY DEFAULT
Others
Working Environment
Temparature:-30°C~60°C (-22°F~140°F); Humidity: ≤95% (Non-Condensing)
Power Input
Powered by Standard PoE Switch or DC12V 1A or Higher (Included by Default)
Power Consumption
≤5W
Unit Dimension
18.5cm x 7.7cm x 7cm[7.28in x 3.03in x 2.76in]
Package Dimension
19.5cm x 10.5cm x 10cm[7.68in x 4.13in x 3.94in]
Net Weight
397g [0.88lb, 14.00oz]
Gross Weight
480g [1.06lb, 16.93oz]
Package Contents

1x 4K 8MP Dual Light or Smart IR PoE Waterproof Compact Bullet Live Streaming IP Camera
1x Easy-to-Install Bracket
1x Matched Power Adapter DC12 2A
1x Attached Accessories

NOTE

Audio might not be so good when streaming live video to YouTube.
Quick Start
Connection Diagram
Power on IP Camera and connect it to router via ethernet cable.

Tips: At the very beginning, it's strongly recommended to follow this instructions to connect the camera, especially for network segment issues.
Download & Install
Download IPCManager
Go to Technical Support->Select IP Camera->Download IPCManager->Select corresponding version to download
Install IPCManager
Follow below steps to install IPCManager:
Right click the application and run as administrator;
Select the corresponding language from the drop-down list (English, Polish, Russian, Japanese, German, Simplified Chinese, Traditional Chinese are available for Windows. Only English for MAC version.)
Click Next-->Next-->Install
Download ActiveX
Go to Technical Support->Select IP Camera->Download IPCManager->Select corresponding version to download
Install ActiveX
Install ActiveX after downloading with administrator and restart your PC.
Configure IP
Configure IP via IPCManager
Run IPCManager (If you already installed it)
Enter username & password (admin & 12345 by default)
Select the encoder you would like to set
Click checkbox of DHCP-->Modification-->Close-->Refresh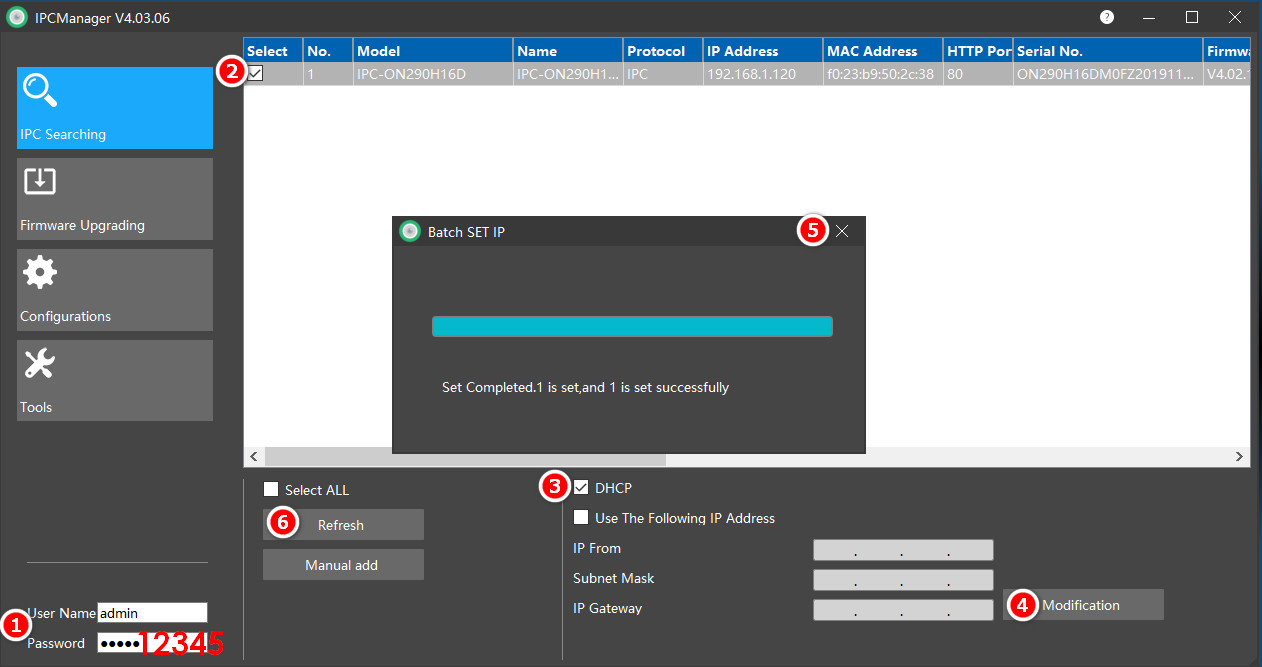 NOTE: please ensure the IP camera and your PC are on the same network segment if it's connected to the same router. That's why it's recommended to use DHCP to obtain IP address to make it for sure.
Access Encoder
Access Encoder from a Browser
Start a browser like IE, Chrome, Firefox (Chrome Recommended);
Enter the IP address you configured above via IPCManager;
Enter username (admin) and password (12345 by default);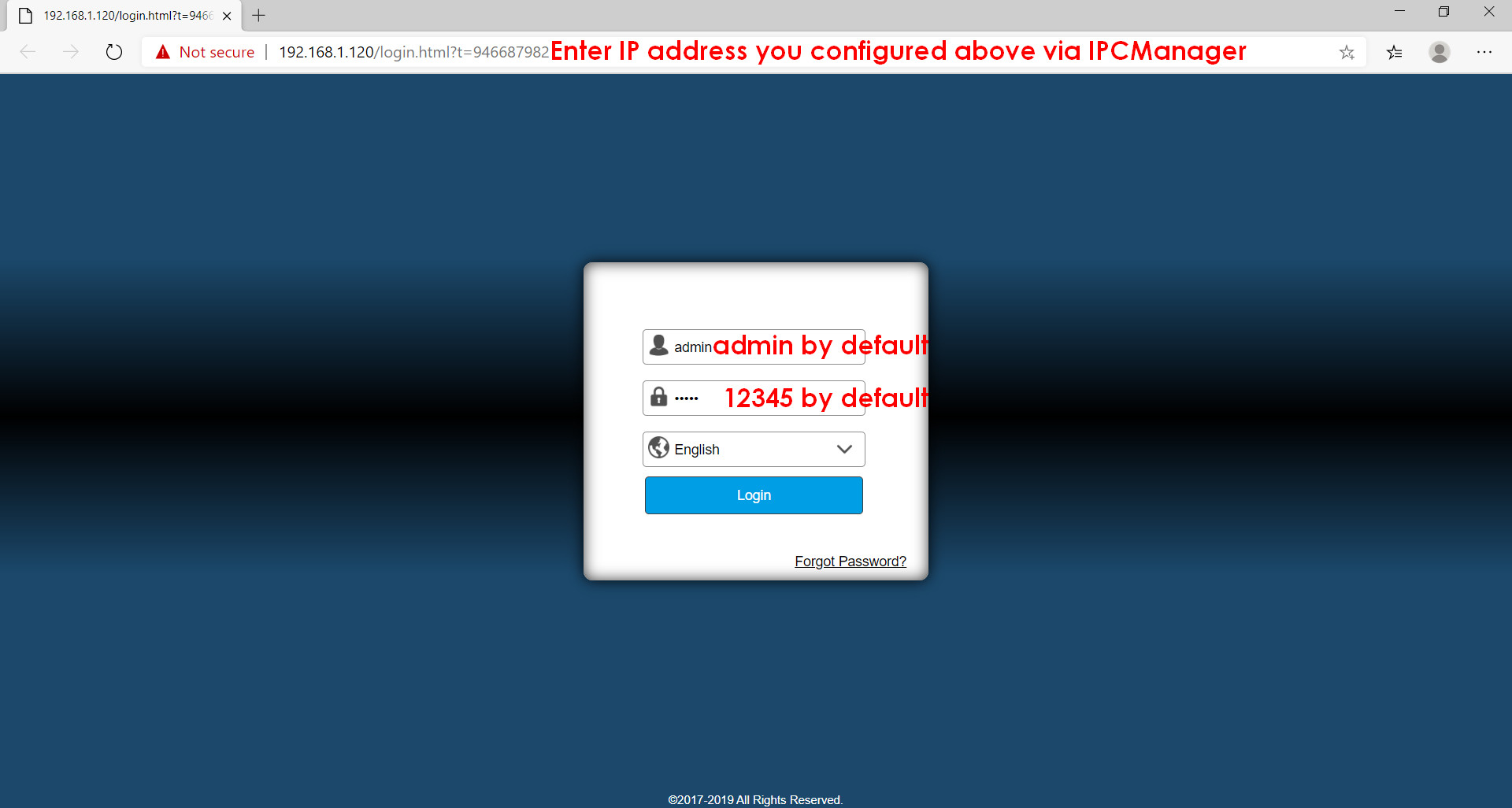 Click "Login" and the Preview page opens in your browser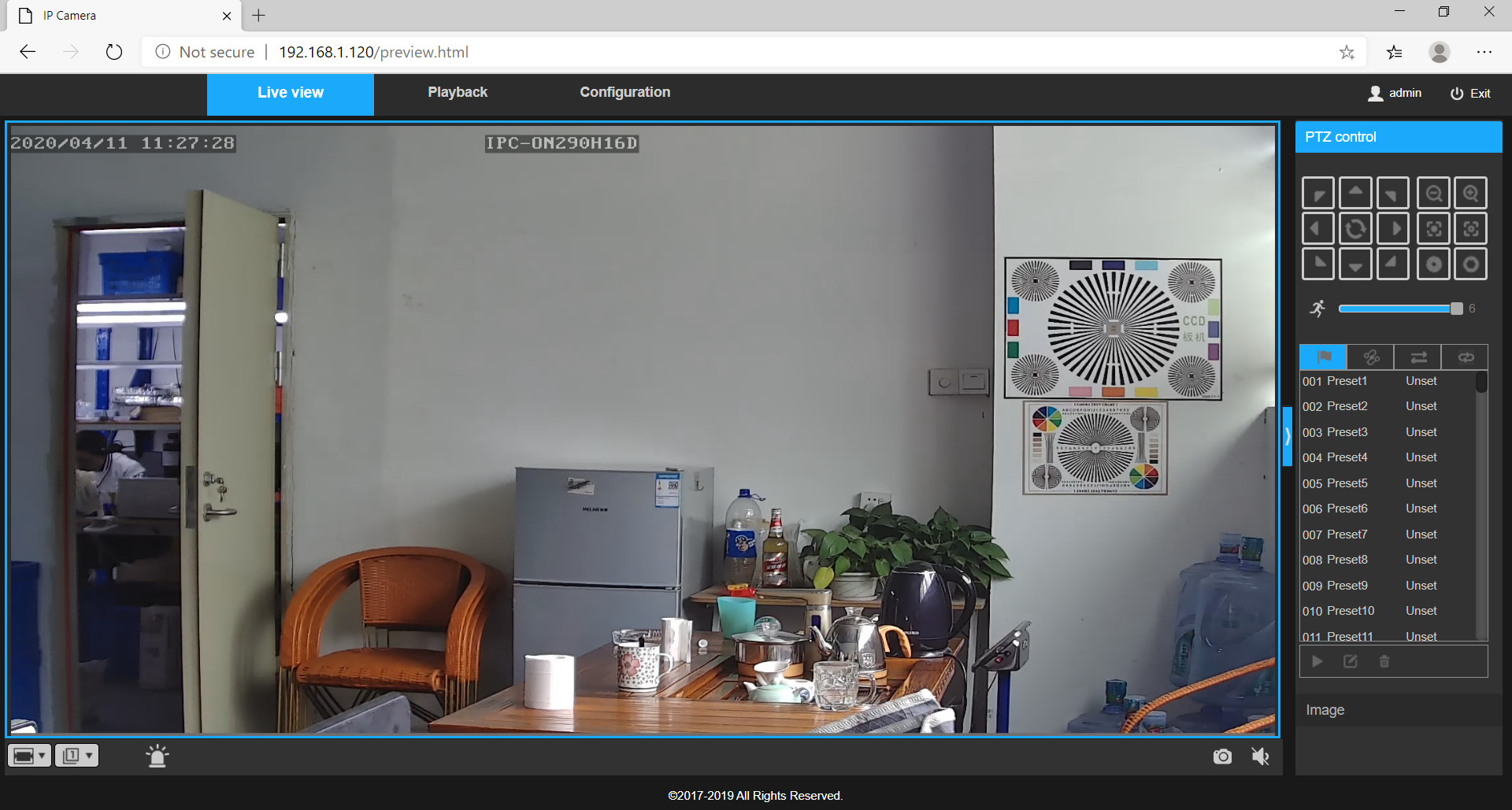 Tips: Generally it's recommended to access the IP Camera from Chrome.
Adjust Focus
Adjust Focus(If Available)
1 means Zoom Out: long press until you think it ok.
2 means Zoom In: long press until you think it ok.
3 means Reset: reset to default focus if you wrongly zoom in/out.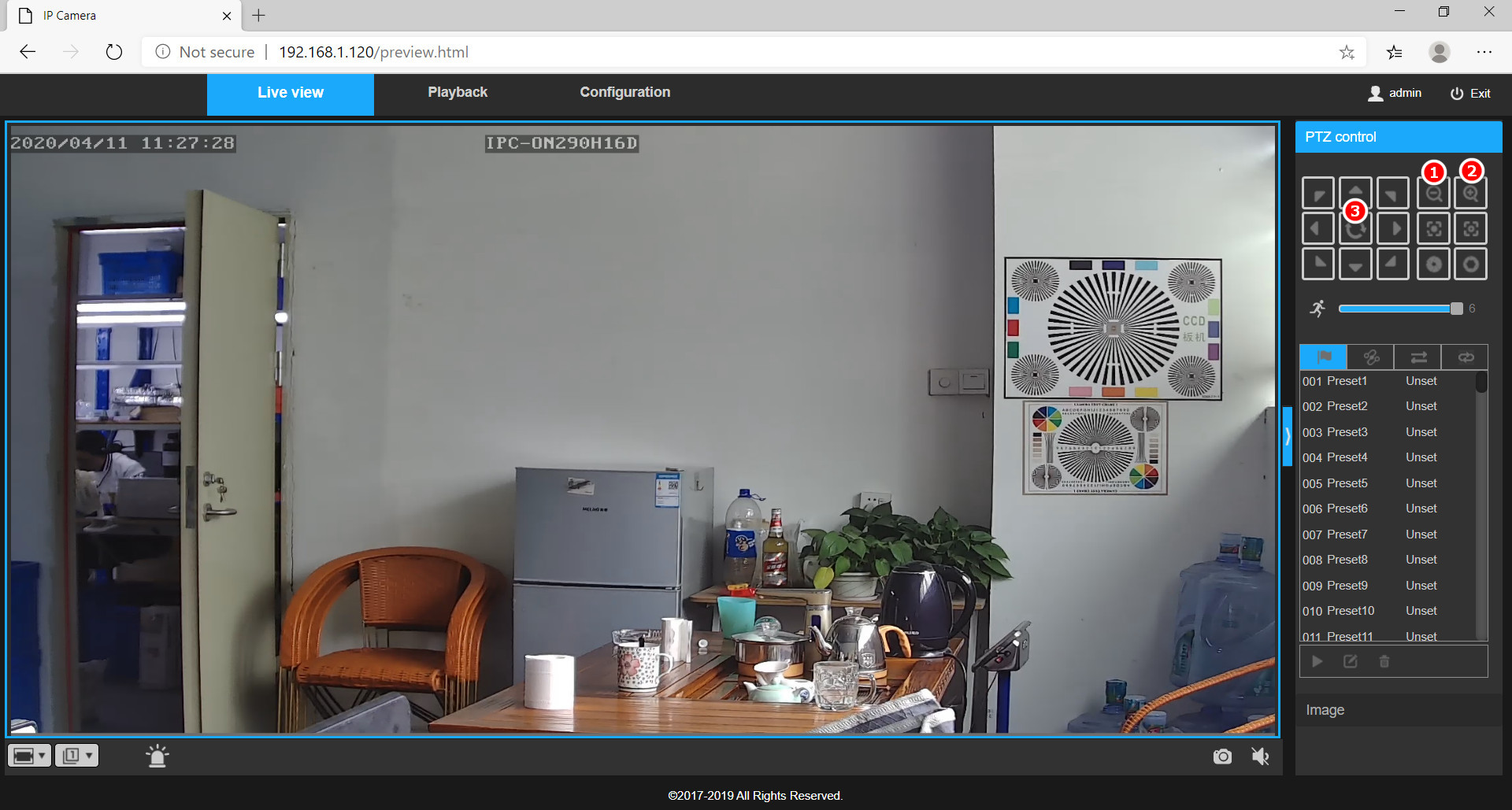 Tips: At the every beginning, it's strongly recommended for you to use the reference values to start streaming because much more uplink bandwidth will be consumpted. Or else it might affect the effect of pushing.
Configure Audio
Configure Parameters of Audio
Go to Configuration-->Video & Audio-->Audio-->Audio
Click checkbox to "Enable audio"; Audio codec format set as "AAC";
Sampling rate set as "16000" or higher;
Input volume set as "39" or so(Reference Value: users can log into GUI and set sampling rate as 24000