Overview
V520 is high performance industrial wireless router based on requirement of 3G/4G. It is mainly used for data transmission of industrial users, support transparent transmission of data and image transmission, device monitoring and wireless routing features.
Dual Core Processor
Equipped with MT7621A Dual Core 880MHz Processor, Faster & Stable Network, Photos Transmitted Faster, Film Played More Fluent, Low Latency, Never Failed in the Game of MVP, Let Router be Best All the Time to Meet Network Requirement of yours
High Power, Wide Coverage
Dual Band Gigabit Router, Faster Rate with Dual Bands. Truly Improve Networking Experience, Maximumize Bandwidth, 2.4G Band is Applicable for More Barriers, Long Distance Wireless Transmission, playing the key role of current wireless transmission, 5.8G Band with low interference, low traffic, equipped with 802.11ac, networking will be faster and more fluent.
Applicable industries:
Electrical, oil, coal, finance, communication, public security, heat, industrial control, meteorological, water conversancy, transportation, municipal administration etc.
Key Benefits of Hardware
Industrial Grade, Dual Cores 880MHz, Memory 1Gb
2.4G, 5.8G Dual Gigabite WiFi, Gigabit Network Card
High Power Design, Wide Coverage
Wide Voltage Input, DC7-35V
Power Reverse Protection, Surge Protection
ESD(±15KV), Lightning Protection(Power 8KV, RJ45 2.6KV)
Hardware Wotchdog Anticrash Design
Built-in Heating Circuit to Ensure It Will Be Working Fine At -40°C
Industrial Serial Port, Serial Port Client and Server Modes
Compatible with Most of 4G Modules
Dual SIM Card, Auto Switch Between 1st and 2nd Cards
Metal Case, High-End, Protection Level IP30
Key Benefits of Software
Auto Detection, Auto Reboot When Failed to Dial, Timing Reboot
VPN Client and Server Mode
Support VPDN Services by More Than 200 Global Carriers
Multiple DDNS Dynamic Domain Service
Site Control, Port Mapping, DMZ Host, Firewall etc
MAC Black/White List
Singly User Management(Access/Connection Authorization etc.)
Remote Cloud Management
Software Watchdog Design to Ensure It will be Online for 7*24H
Compatible with Most of 4G Module, Auto/Manual 2G/3G/4G
Compatible with Multiple Card of IOT, Customized APN
Smart Backup Between Dual Wireless Network
Smart Backup between Wired and Wireless Network
Attached Clout Management Platform(Developing)
Specification of Quectel EC25 Series IoT/M2M-optimized LTE Cat 4 Module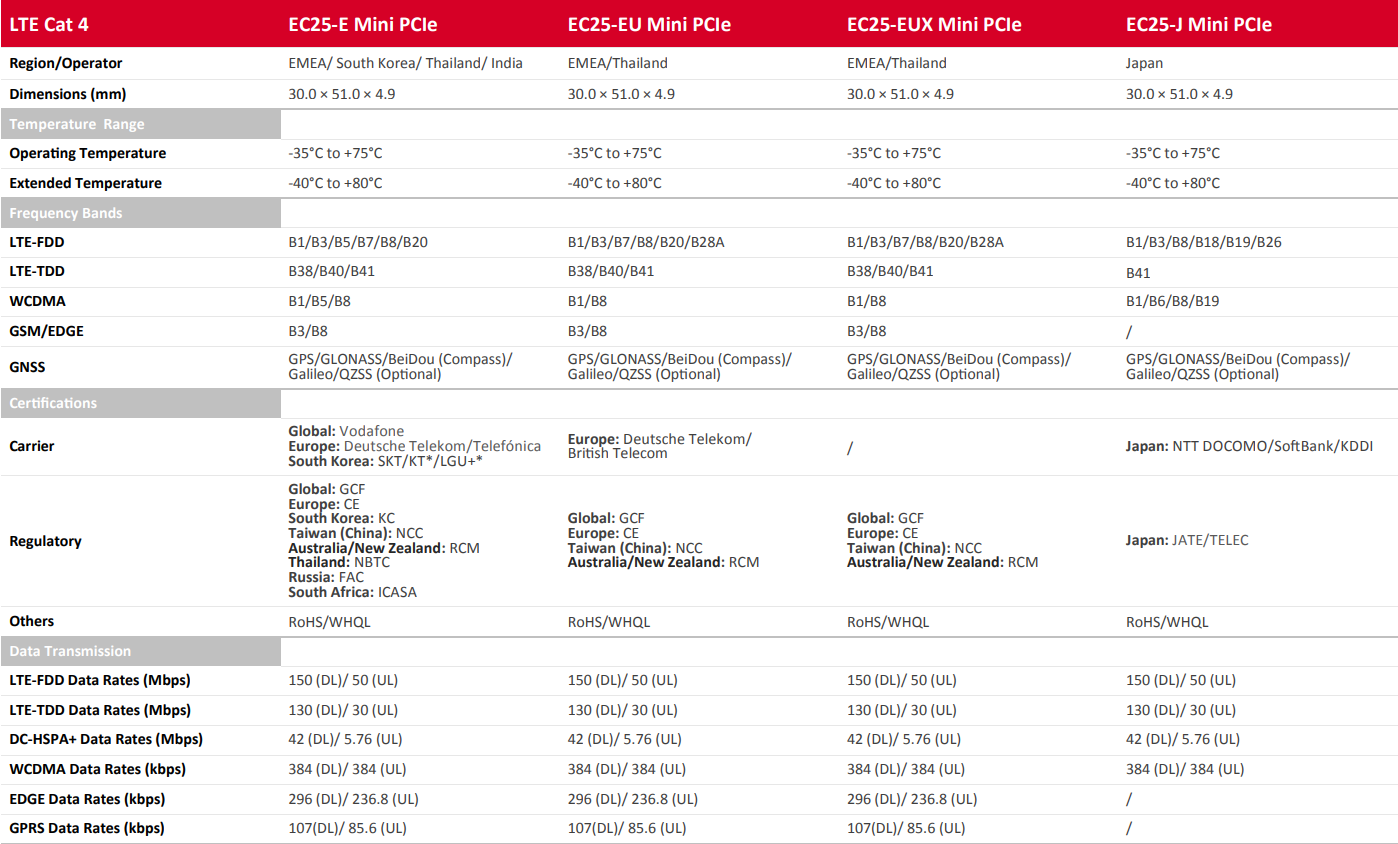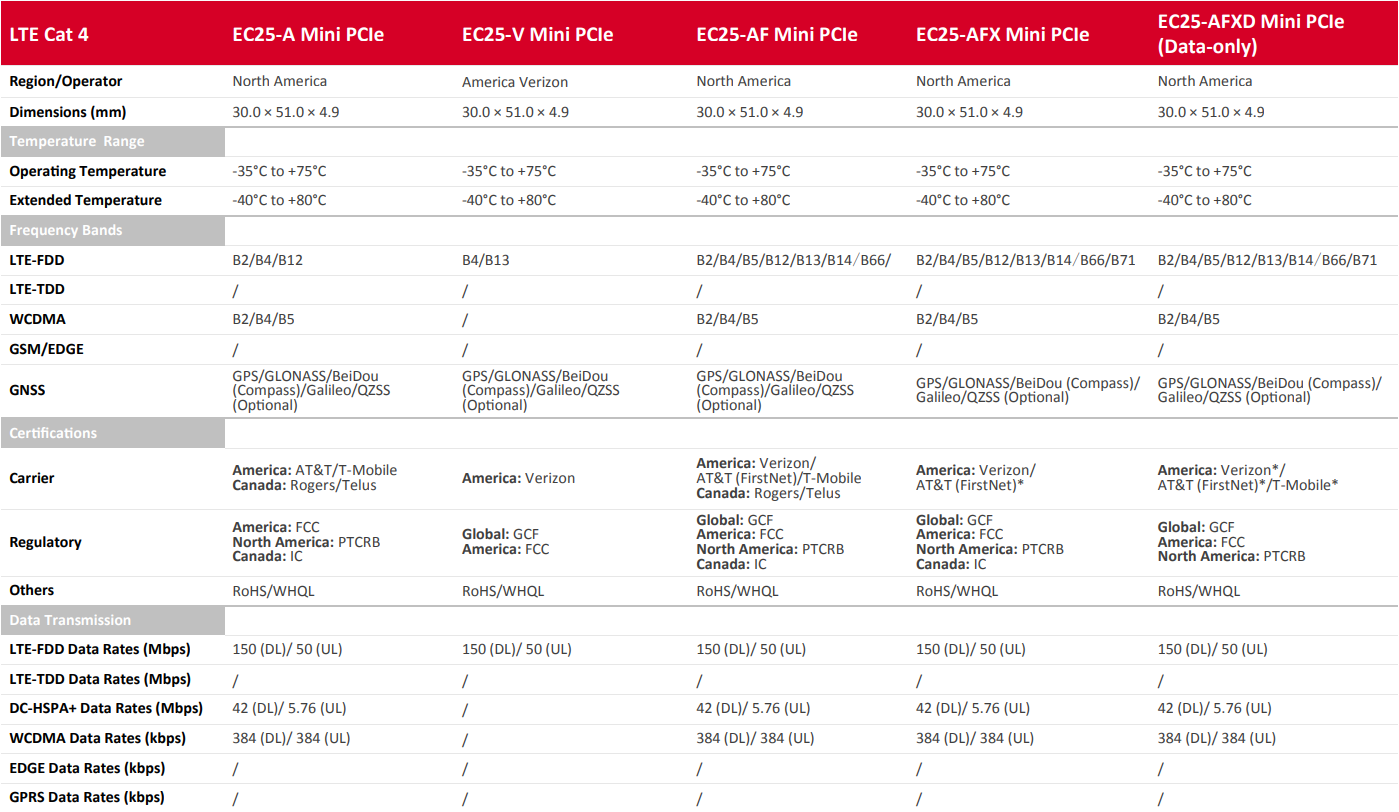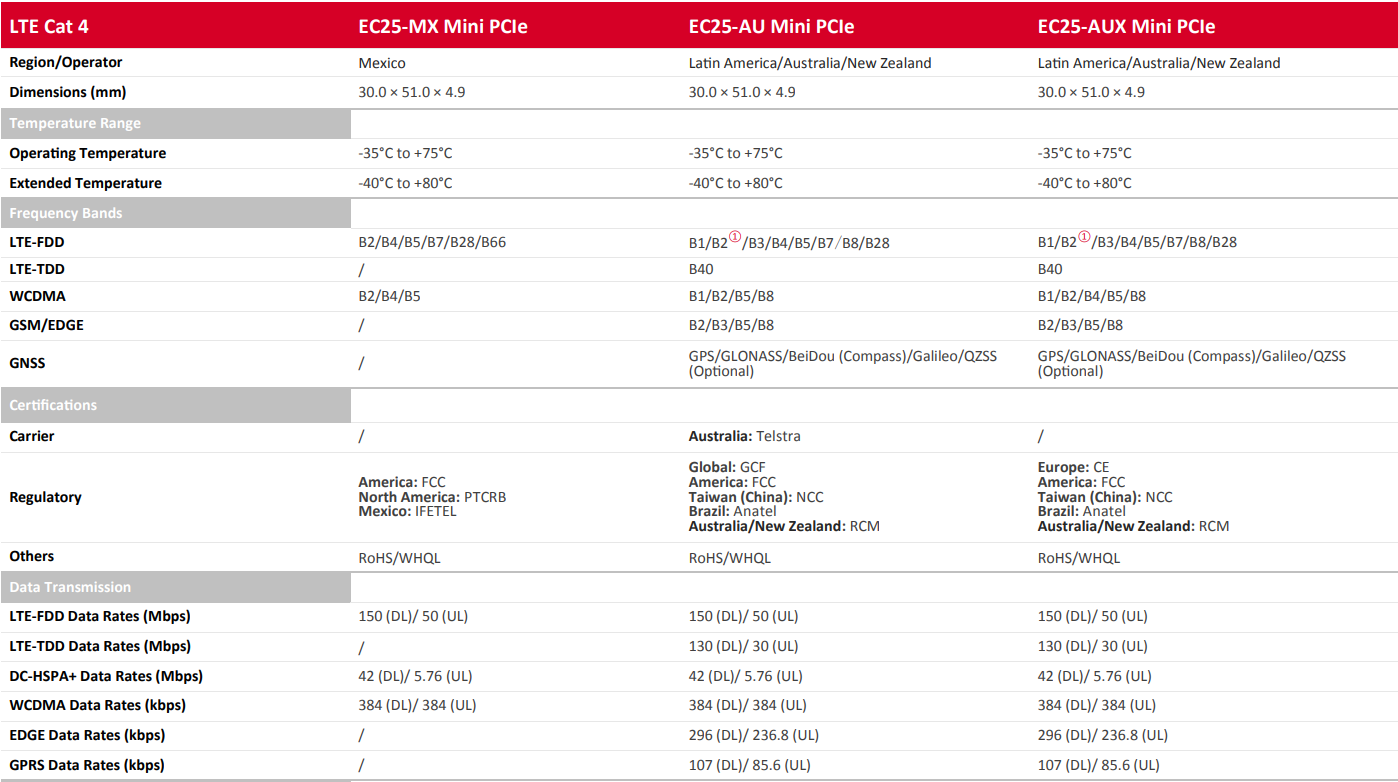 Specification
SOC
MT7621 Dual Cores 880MHz
Flash
1Gb/128Mb
WIFI(2.4G)

Standard: IEEE802.11bgn 300Mbps(2T2R)

Power of Send: 11n HT40 MCS7 14dBm/11b CCK 17dBm/11G OFDM 15dBm

Sensitivity of Receive: -65dBm at 300Mbps/-70dBm at 54Mbps/-81dBm at 11Mbps

WIFI(5.8G)

Standard: IEEE802.11ac 866Mbps(2T2R)

Power of Send: 11ac HT80 MCS9 20dBm

Sensitivity of Receive: 56dBm at 866Mbps

WiFi Converage
Indoor 30 meters, Outdoor Static Directional Antenna 500 meters
Ethernet Port

WAN Standard Port W/ LED(10/100/1000Mbps Self Adaptive)

LAN Standard Port W/ LED(10/100/1000Mbps Self Adaptive)×4

RS232
Phoenix Head Interface(COMS Electrical Level: 5V)
Antenna
2.4G ×2, 5.8G ×2, 4G ×2, GPS/BD ×1(Optional)
SIM Card Slot
SIM Card Slot x2, Hot-Plugging Not Supported
Button
Reset Button
Indicator
System Indicator, 4G Signal Indicator, VPN Indicator
Power Supply
DC Plug or Phoenix Head Interface, 7~35V/2A, 12V Recommended
Power Consumption
Less than 1500mA(When Full Load)
Network Connection
3G/4G, Wired, Wireless, Bridge, Relay, WISP
Software Features

Multiple modes (4G/Wire Gateway/Wireless/Wireless Bridge/Wireless Hotspot/Wireless Relay);

APN Auto Detection(more than 400 ISP supported) and APN customization;

RS232 Pass-through(Data Control/Customized Registration Pack/Customized Keep-Alive Pack;

RS232 Pass-through(Server and Client Simultaneously Work/Serial Port Data Statistics);

VPN(L2TP Server and Client/PPTP Server and Client);

Network Keep-Alive Mechanism(ICMP/DNS Detection);

Auto Reboot(Timing or Reboot when free);

DDNS(Oray or other ISP supported), UPNP, Access Control, Firewall, Port Mapping, DMZ;

WOL Local Broadcast Discovery Protocol Interface (Used for Discovering Local Devices);

HTTP Protocol Control Interface (Used for Controlling the Device).

Device Management

Network Time Synchronization, Synchroninzed with PC and Cellphone;

Backup and Import Configuration;

Online and Local Upgrade;

Remote Management;

Telnet (Terminal) Command, Serial Port (TTL) Command;

LED Indicator On/Off, Local and Remote Log.

Max. Users
Wireless: 60, Wired: 200
Browsers Requirement
IE9.0/Chrome 60.0.0/Firefox 55.0.0/ Safari:5.0.0 Later Version
Working Temperature
-40°C ~ +70°C (-40°F ~ +158°F)
Storage Temperature
-40°C ~ +85°C (-40°F ~ +185°F)
Dimension
18×12×5CM(W/o Rail); 20.4×12×5CM(W/ Rail)
Package Contents

1x 4G Industrial Wireless Router

2x 4G Antenna

4x WiFi Antenna

1x Power Adapter

1x GPS Antenna(Optional)