Overview
EXVIST 4K@30FPS wireless hdmi extender transmitter & receiver, also called image transmission system, is designed for wireless or wired transmission of high definition audio and video signals via HDMI from the audio-visual devices to the display devices for high-definition playback. It features RJ45, IR remote control that helps transmit videos wirelessly or by wired connection to a switch or router up to 656ft (200 meters) by Wi-Fi under open air conditions. Thanks to the integration of RTSP protocol, it delivers high definition video if you would like to play the video via VLC player. Furthermore, including the new pairing mechanism, it's pretty easier for users to get transmitter and receiver paired with just one single ethernet cable, connecting it to both RJ45 jacks, wait for a while and it's paired successfully.
Advantages
Powerful Function - Video input via HDMI encoded by H.265 and resolution up to 3840*2160P@30fps; Works as the traditional hdmi wireless transmitter and receiver, but for transmitter, it's available to pull video stream directly either via RTSP protocol and play it via VLC player;
Multiple Application - Applicable not only for church, monitor and other home usage, but also for video conference, video surveillance, live broadcast by connecting it to your camcorder and other specific applications;
Long Distance - Capable of wirelessly transmitting video up to 656ft (200m) under open air environment. When it's tested in the office, it can still transmit up to 196ft (60m) in the same floor with one glass door; Under rigorous conditions, it's available to transmit video up to 985ft (300m) via wired connection to switch or router;
Crystal Image - With the built-in auto equalization system, the image will be more fluent, crystal and stable even if it's transmitting video under long range;
Plug & Play - True plug and play without drivers to install, just connecting both of transmitter and receivers to devices with HDMI cable. Easy to pair units by one single ethernet cable without any settings or operations if needed later;
Features
Dual Transmission - The wireless HDMI extender not only can wirelessly transmit video from transmitter to receiver up to around 656ft (200 meters) under open air conditions, but also transmit video to up to around 985ft (300 meters) through wired connection to switch or router if it's under severe conditions, which efficiently fixes the transmission issue if Wi-Fi is not covered.
RTSP Protocol - Not only the 2160P HDMI transmitter can be used for sending video to receiver in wireless or wired connection, but also turned into one HDMI video encoder to pull video steam via RTSP protocol and play video via VLC player by entering rtsp://192.168.1.166/cho/main as long as there's one video source input via HDMI.
Multiple Modes - This set contains 1x transmitter and 1x receiver. If you would like to realize the transmission from 1x transmitter to more receivers, that will be no problem too. All you have to do is to buy more receivers (max. 4pcs), connect the receiver(s) to the transmitter via one single Ethernet cable one by one and get all receiver(s) paired to the transmitter, then multiple modes are realized.
Higher Compatibility - Both of our video wireless transmitter and receiver are compatible with HDMI 1.4. Basically it works with most of devices with HDMI like TV box, computer, game console, DVD, camcorder, virtual reality(VR), CCTV monitor, projector etc. But for 1080i, it'll be better to switch it from 1080i to 1080P output.
Plug and Play - True plug and play, there's no need to install any software once received. All you have to do is to connect the video source to the transmitter via HDMI cable and the receiver to the monitor or TV via HDMI cable, power on both transmitter and receiver via type-c cable. Then wait for a while and you will enjoy the video in FHD 2160P@30FPS or 1080P@60fps.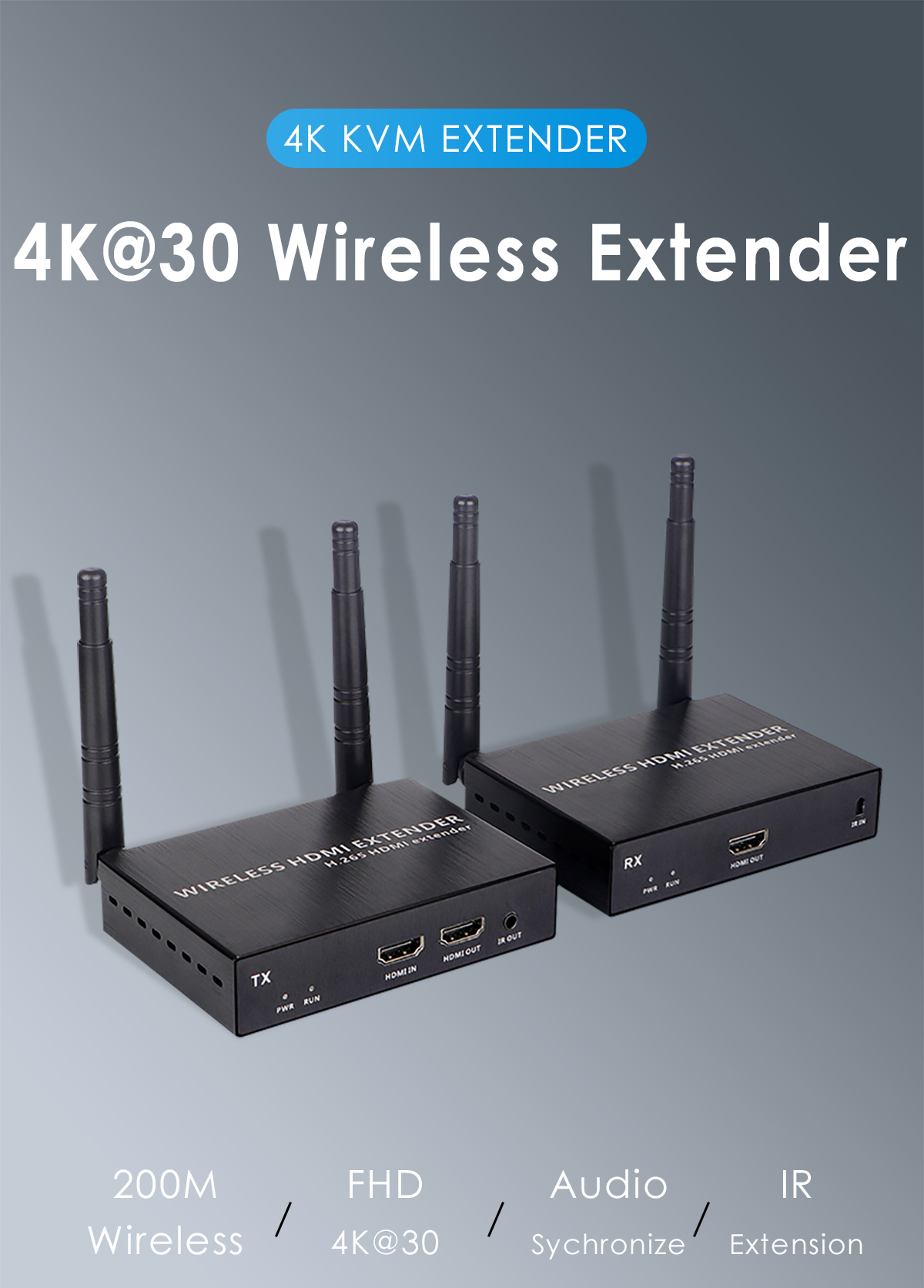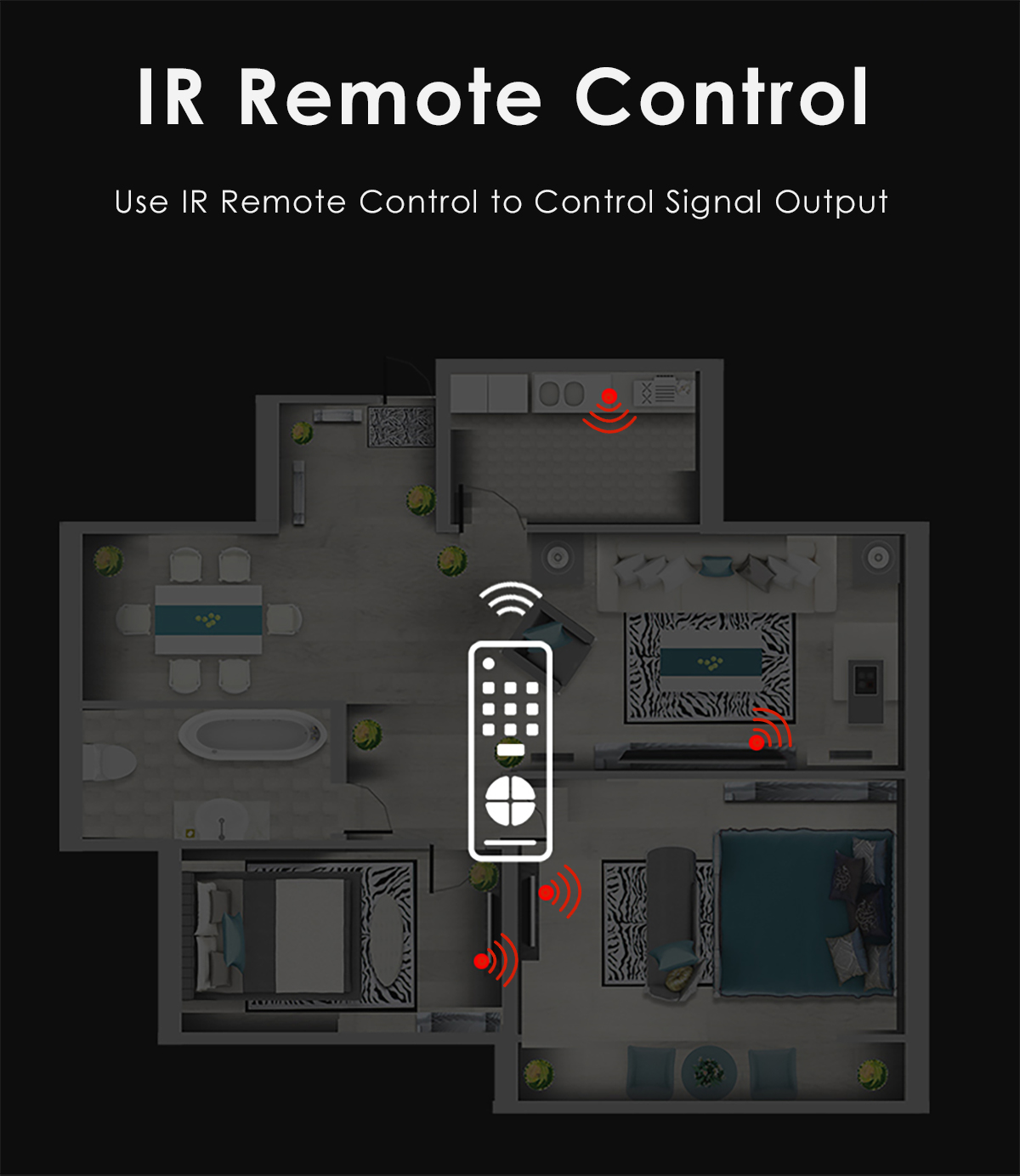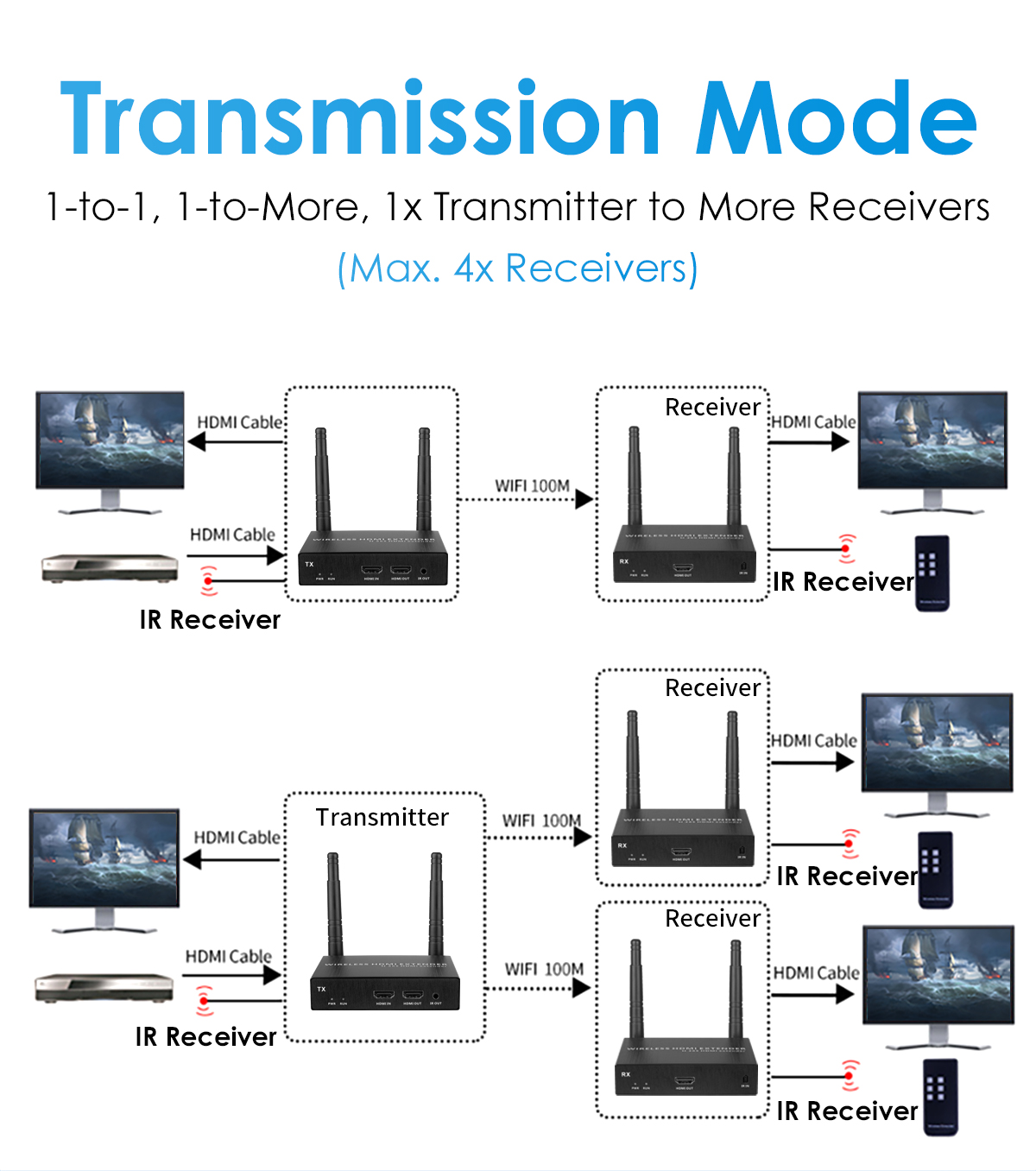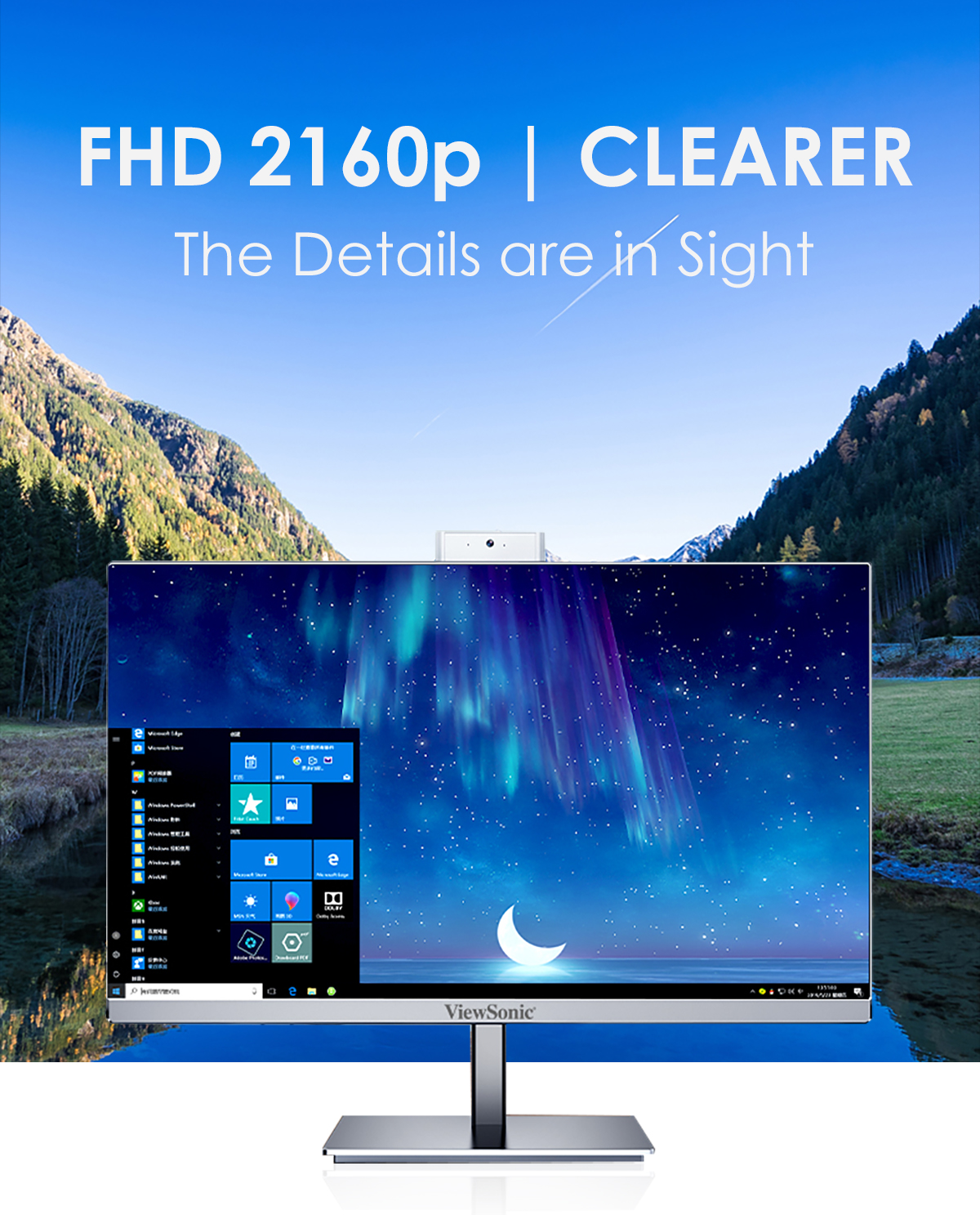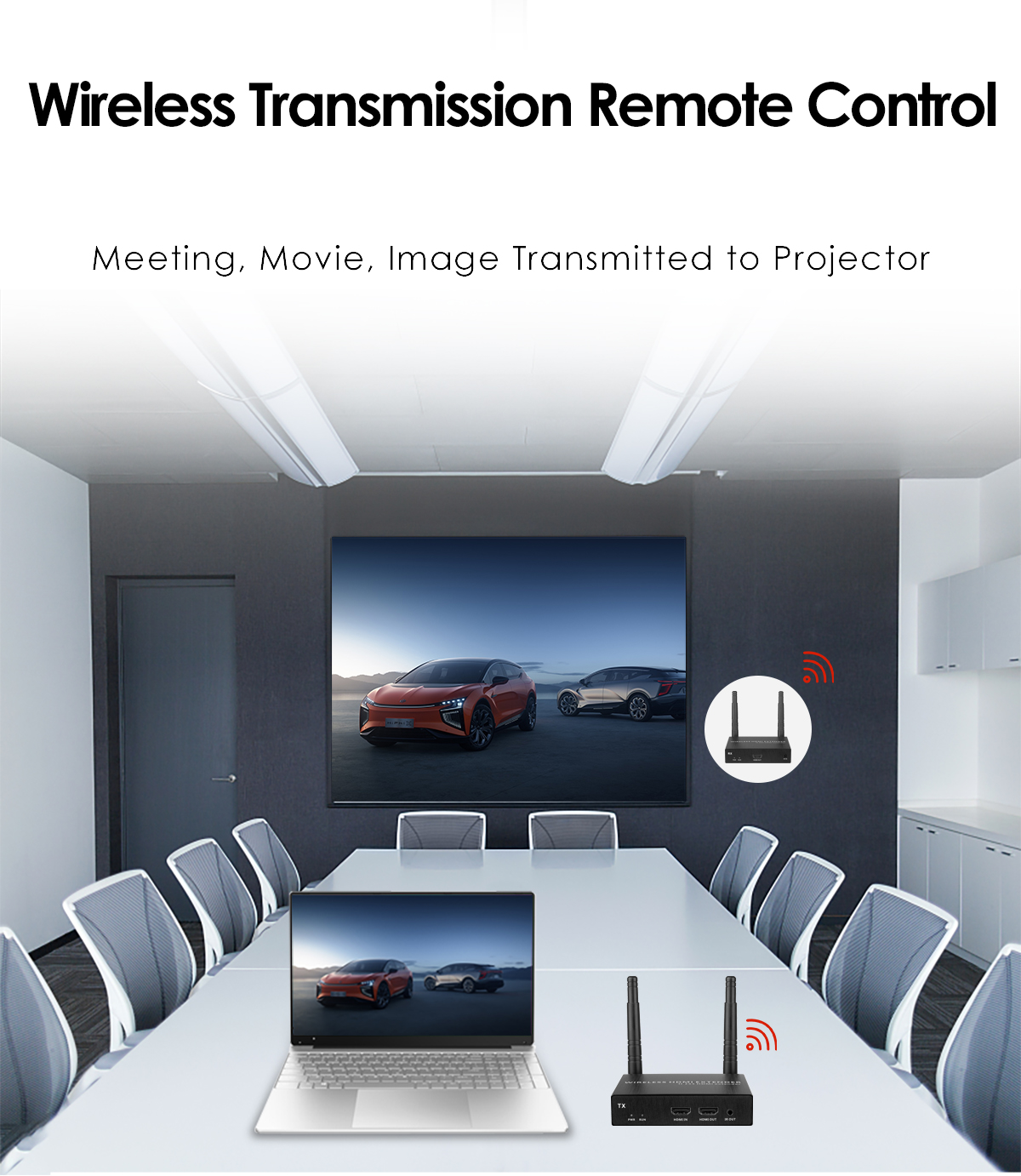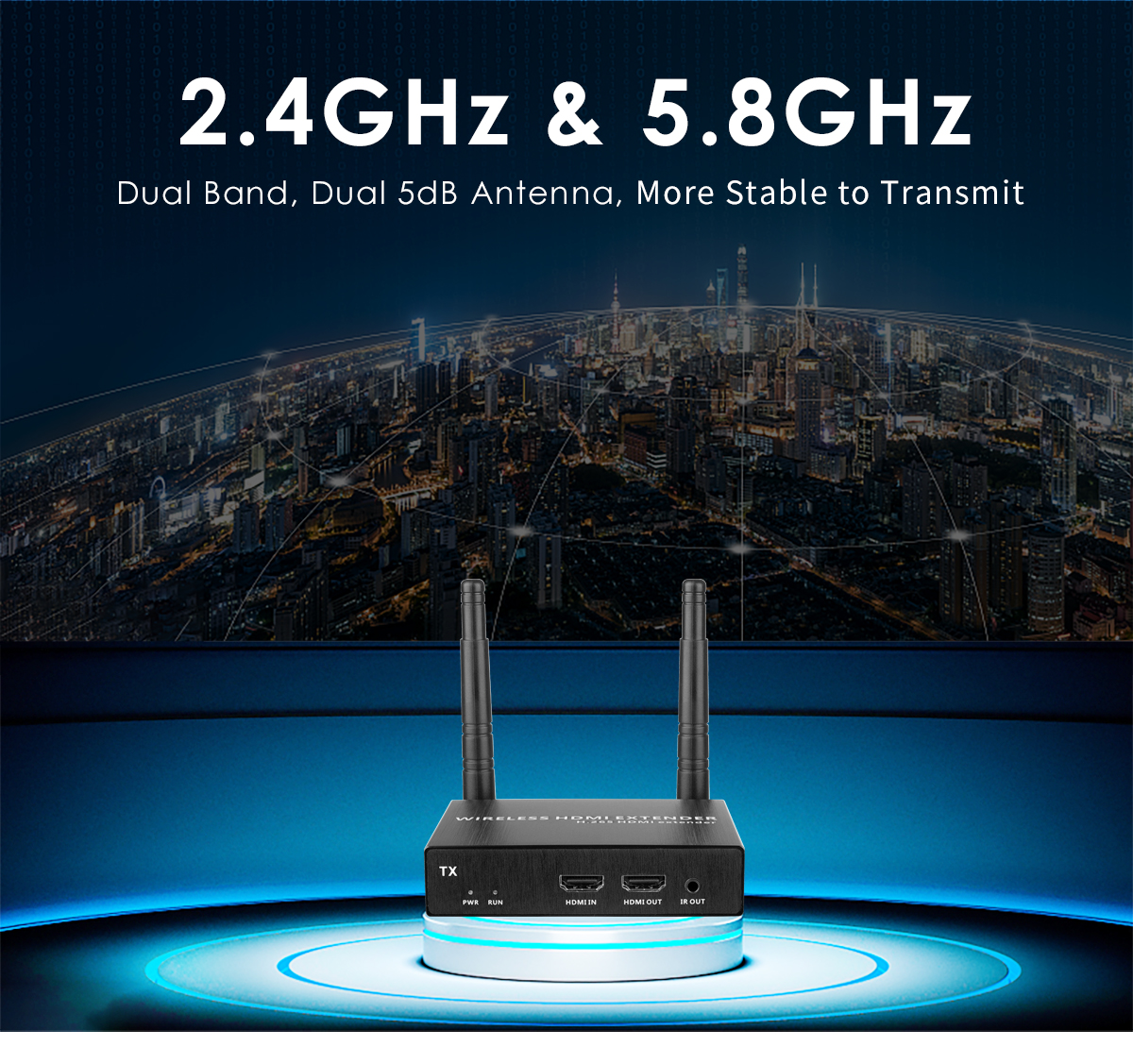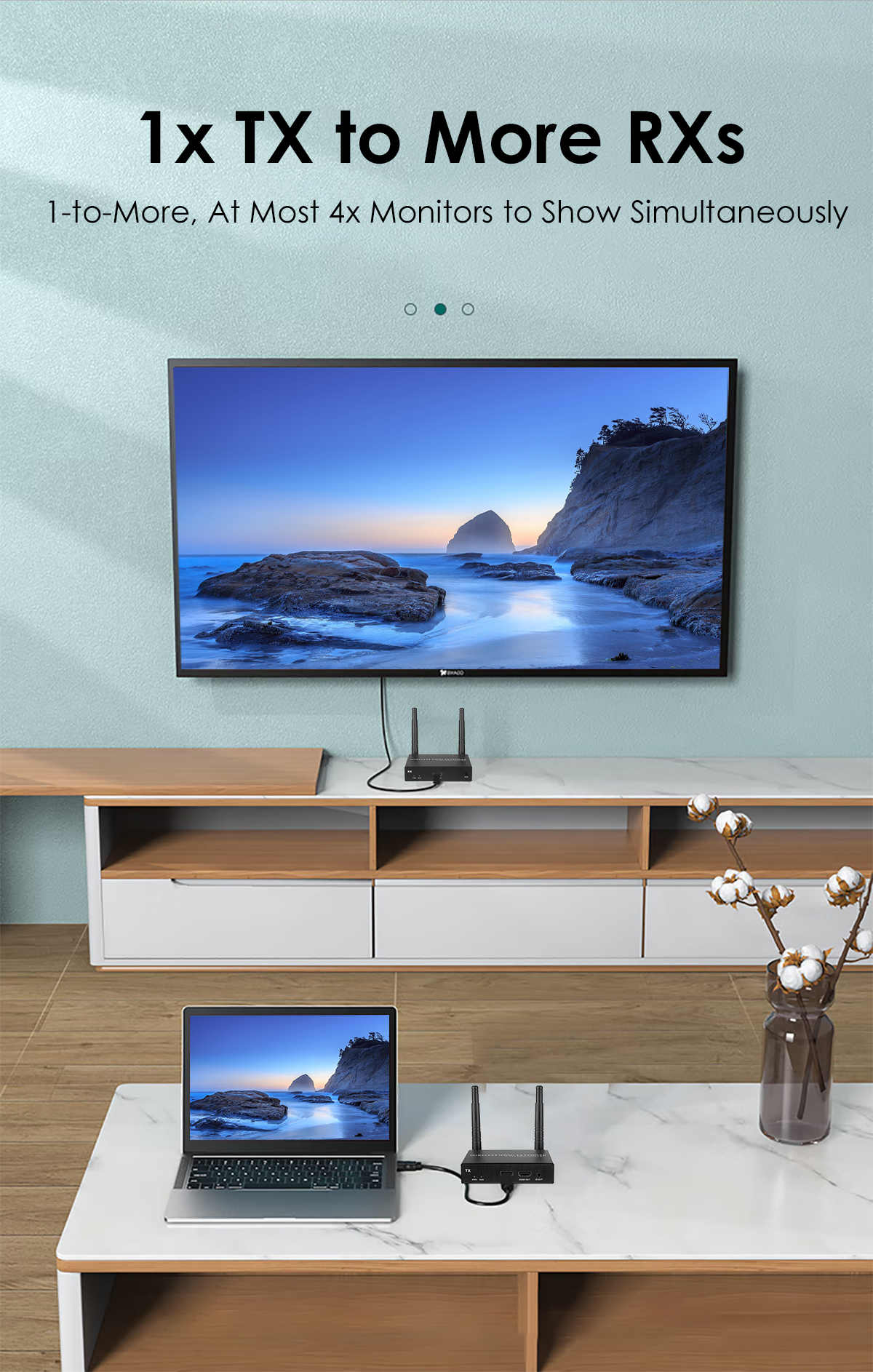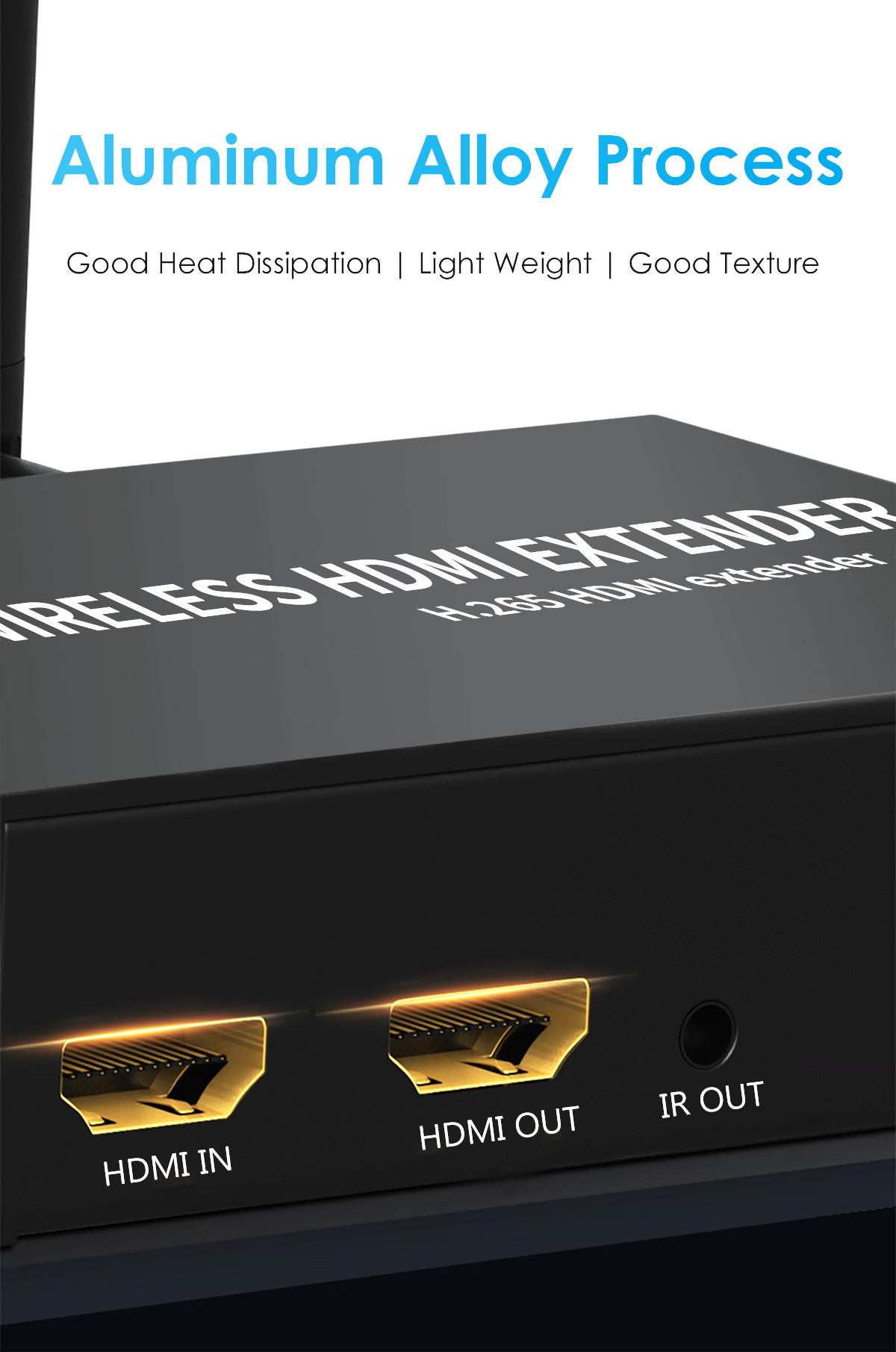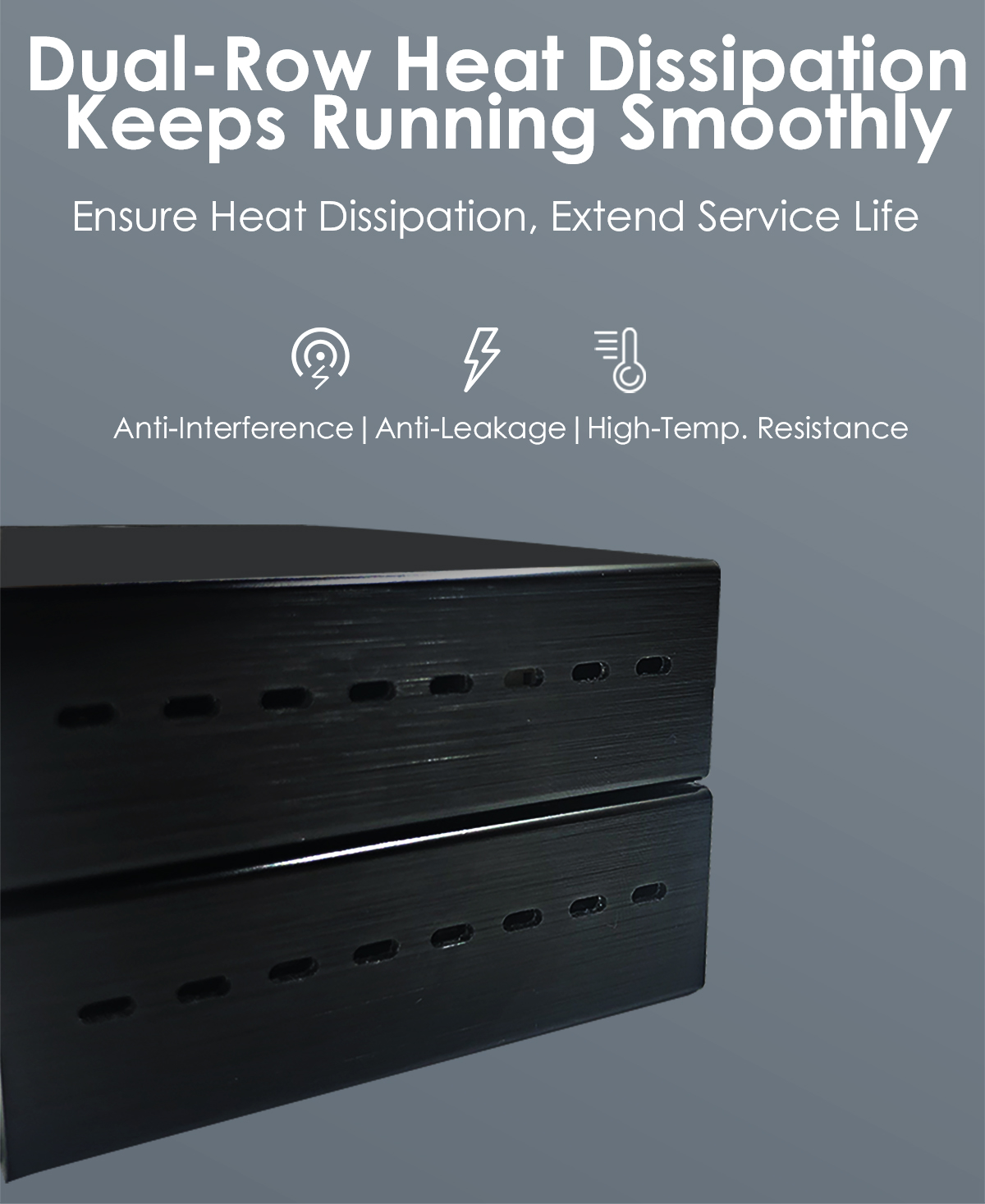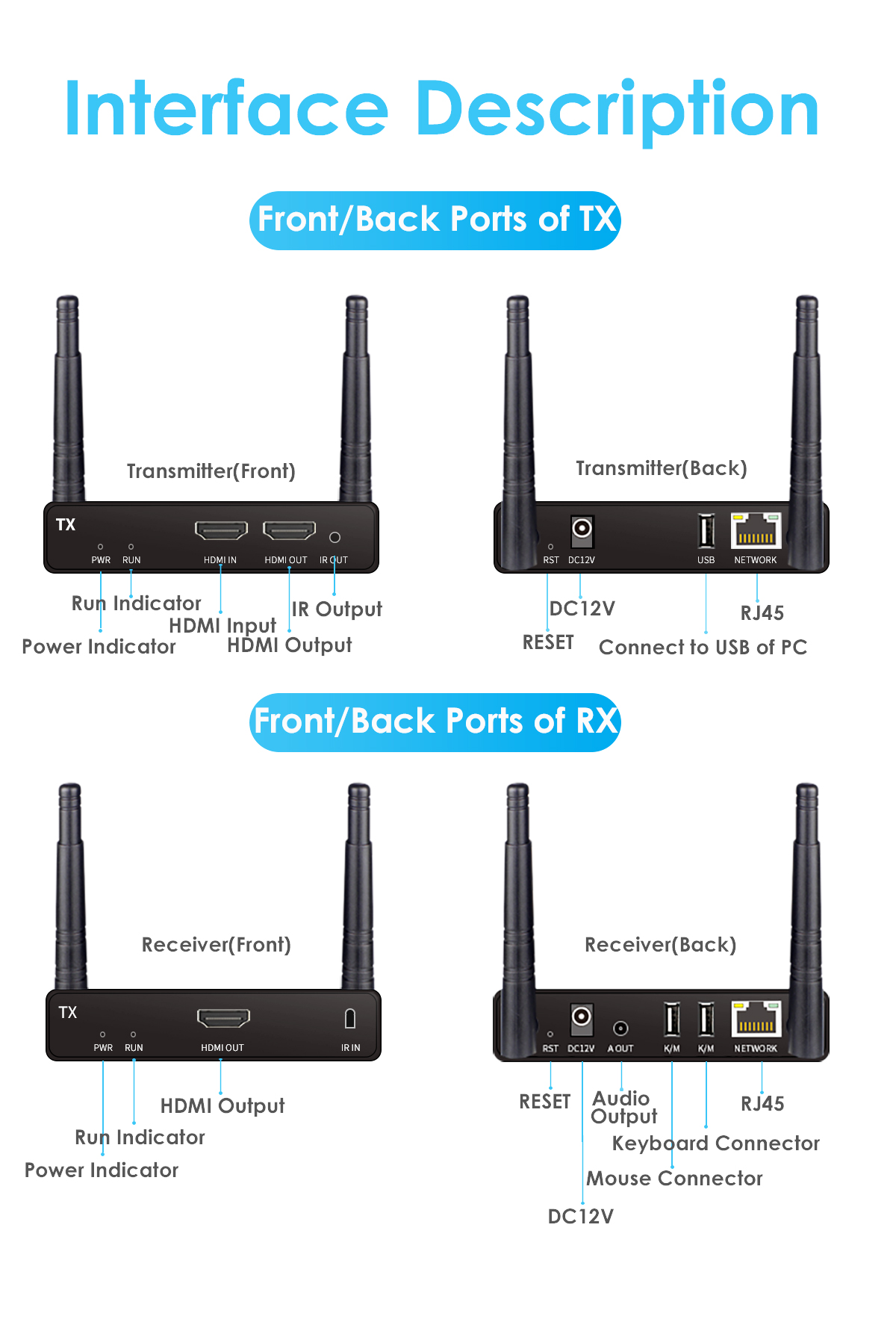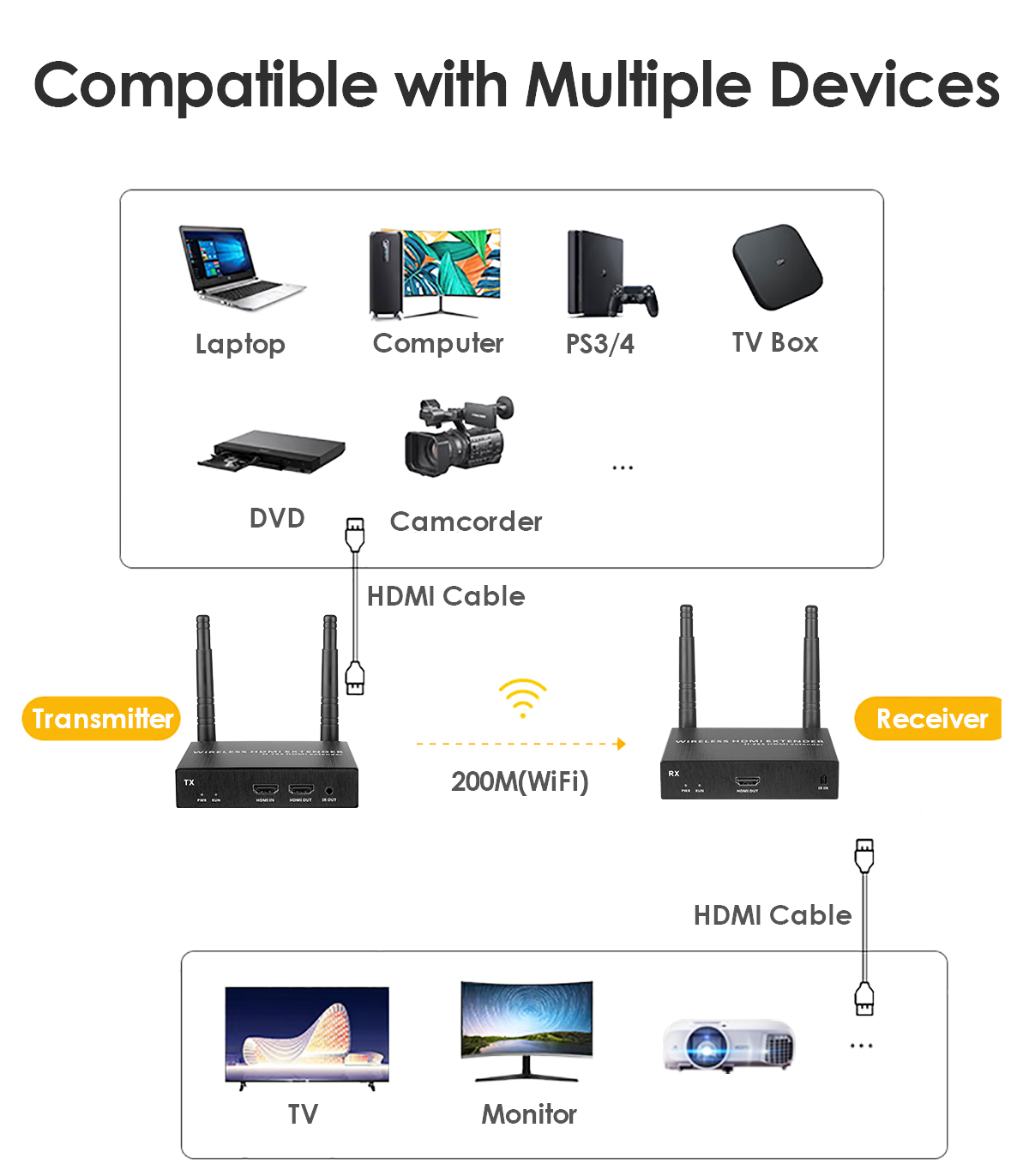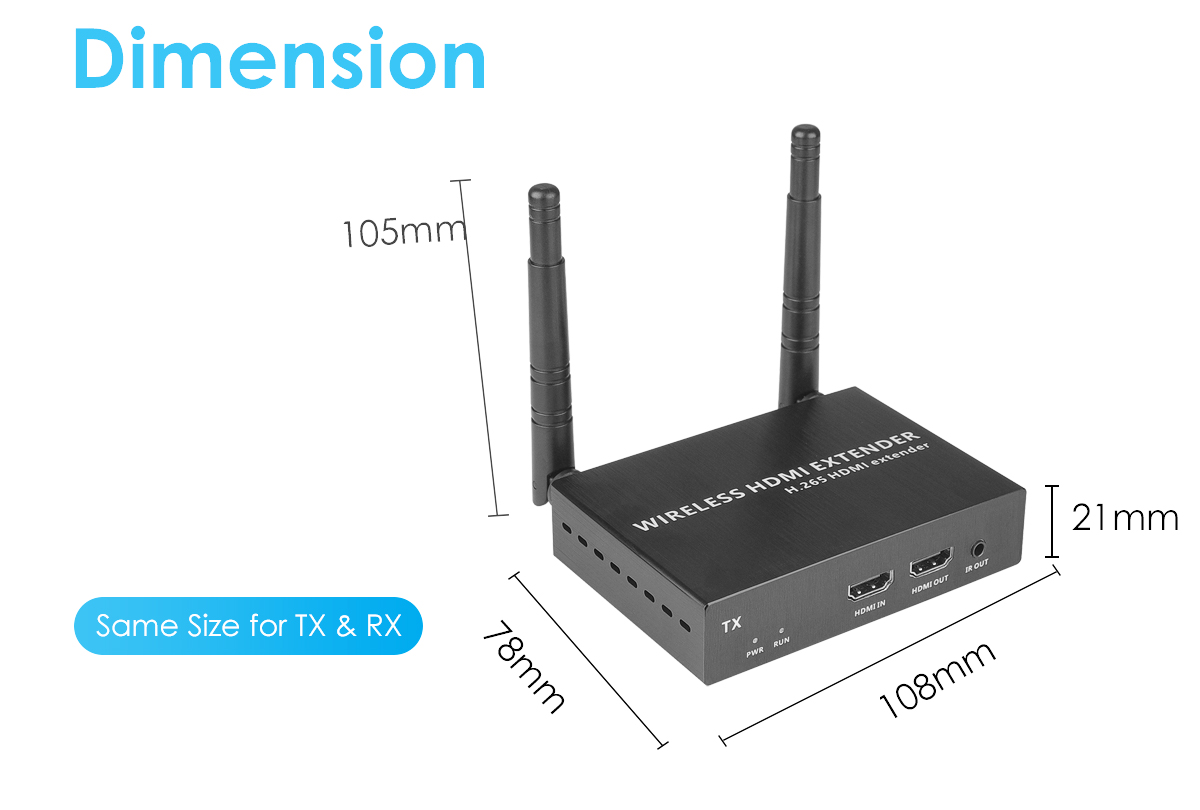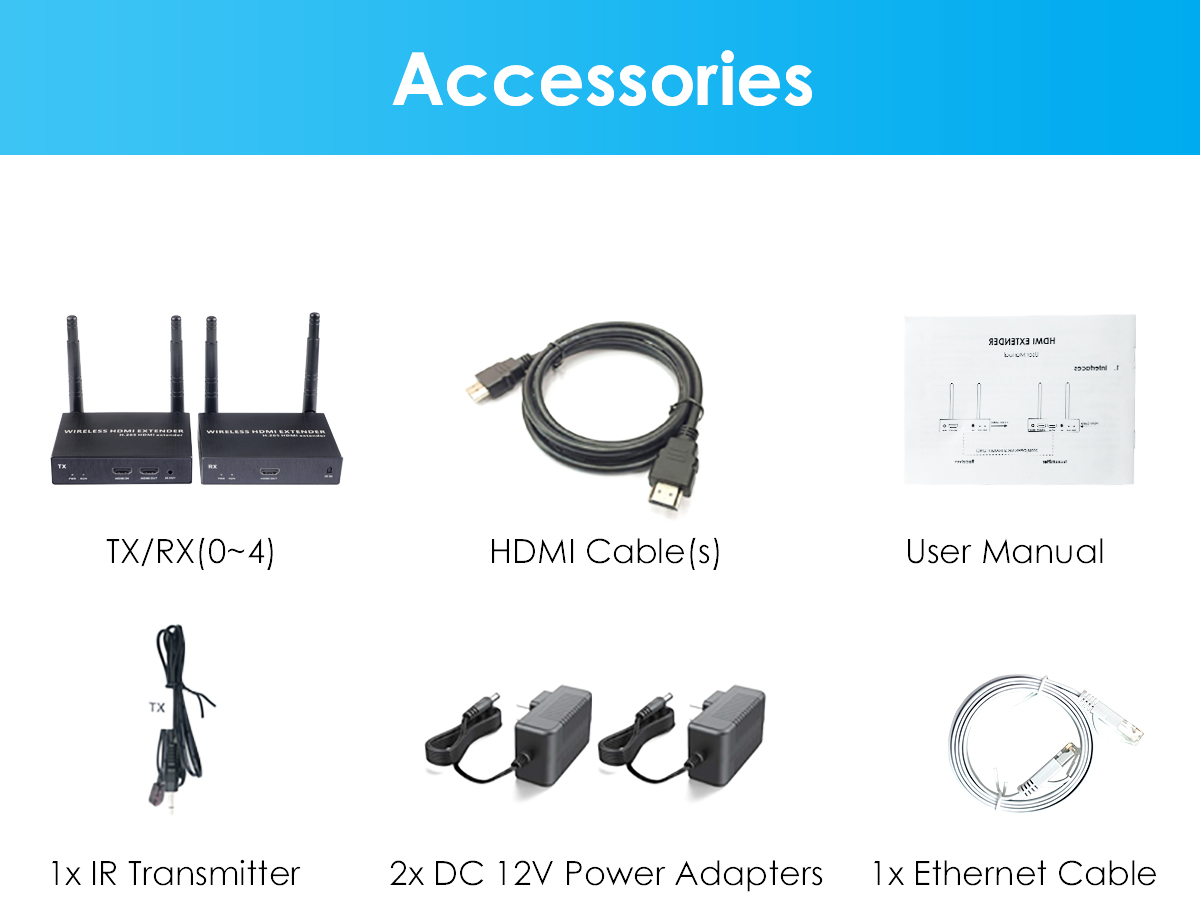 Specification
Connectors
HDMI (1.4)

2x HDMI Female(Transmitter)
1x HDMI Female(Receiver)

RJ45
1x RJ45 Female(Transmitter/Receiver)
IR Control

1x 3.5mm IR Female(Transmitter)
1x 3.5mm IR Female(Receiver)

Antenna
2x External WiFi Antennas (Transmitter/Receiver)
Power
1x DC12 Power Connector(Transmitter/Receiver)
Signal Input/Output
Signal Input

1x HDMI Input by Transmitter
1x IR Input by Receiver

Signal Output

1x HDMI Output by Receiver
1x IR Output by Transmitter

Max. Transmission Distance

Wireless: Up to 656ft (200M) under open air
Wired: Up to 985ft (300M) via switch
Video
| | |
| --- | --- |
| Video Encoding | H.265 |
| Video Resolutions | Up to 3840*2160P@30fps, 1080i Not Recommended |
Network
Default IP

192.168.1.166 (Transmitter)
192.168.1.167 (Receiver)
WiFi
| | |
| --- | --- |
| Frequency | Dual Band, 2.4GHz | 5.8GHz |
Power
| | |
| --- | --- |
| Input Voltage | AC110V-220V, 50/60HZ |
| Input Voltage | DC12/1A |
| Consumption | ≤4.0W(Transmitter/Receiver) |
Physical
| | |
| --- | --- |
| Unit Dimension | 108 x 78 x 25 mm(4.25 x 3.07 x 0.98 in.) |
| Package Dimension | 194 x 116 x 116 mm(7.64 x 4.57 x 4.57 in.) |
| Unit weight(1x unit) | 178 g (0.39 lb, 6.28 oz.) |
| Gross weight(1x TX, 1x RX) | 839 g(1.85 lb, 29.59 oz.) |
| Housing | Aluminum alloy |
| Color | Black |
Operating Environment
| | |
| --- | --- |
| Operation Temperature | -15℃ ~ 55℃ (5°F ~ 131°F) |
| Storage Temperature | -40℃~ 60℃ (-40°F ~ 140°F) |
| Humidity(Non-Condensing) | 0-95% |
User Manual